General Information 
Duration: 6 Days/5 Nights
Tour Routine: Depart UB to Yol Gorge – Khanbogd ger camp Khongor Sand Dunes – Gobi Erdene ger camp – Bayanzag the flaming Cliffs – Govi Tour – Ger camp DZD town – Gobi Oasis ger camp – Tsagaan Suvarga Cliffs – Caravan Serai camp – Ulaanbaatar
Intended Travel Date: Optional (Available all time)
Pick-up/Drop-off: Ulaanbaatar
Tour Style: Natural and Landscape, History and Culture
Guides: Local Guide (English Speaking Guide, Other Languages upon Request)
Transportation: Private First-class Air-conditioned Vehicles
Brief Itinerary
Day 1: Depart UB to Yol Gorge – Khanbogd ger camp
Day 2: Khongor Sand Dunes – Gobi Erdene ger camp
Day 3: Bayanzag the flaming Cliffs – Gobi Tour Ger camp
Day 4: DZD town – Gobi Oasis ger camp
Day 5: Tsagaan Suvarga Cliffs – Caravan Serai camp
Day 6: Ulaanbaatar city
Full Itinerary
Day 1: Ulaanbaatar – Yoliin Am Gorge
We travel to Yoliin Am Gorge in the stunning Gobi Altai Mountain range this lovely morning. We anticipate traveling 130 meters or 210 kilometers to the camp.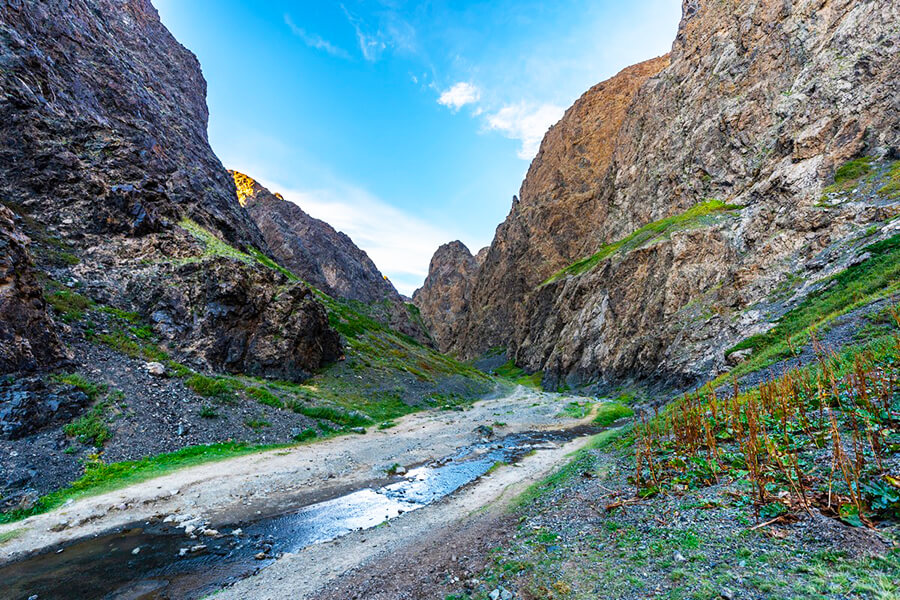 The Lammergeyer vulture, often known as the bearded vulture in Mongolian, inspired the name of the Yoliin Am Gorge. A 5 km long, stony mountain with an altitude of 1800-2100m rises from a deep, narrow canyon (5900-6890 feet). Over the course of the winter, the little stream freezes, forming a magnificent coating of thick ice that we shall encounter.
Day 2: Yoliin Am – Khongor Sand Dunes
Following breakfast, we go to Khongor Sand Dunes, a stunning oasis in the Gobi. We go 180 kilometers (112 miles) to our camp, where we assign cabins. After that, we go to the most stunning Khongor sand dunes. Dinner and a night spent camping in the Gobi Desert.
Day 3: Khongor Sand Dunes – Bayanzag the flaming cliffs
After an early lunch, we leave for the Bayanzag, or blazing cliffs, with the morning free. The 4-hour travel to the attraction is 180 kilometers or 112 miles long. We go to the museum and the cliffs. We then head back to our camp.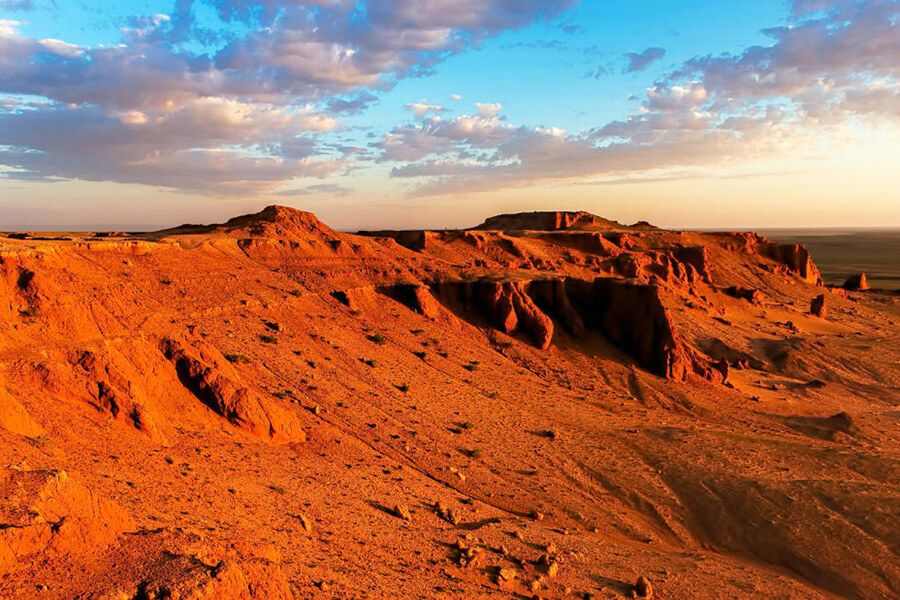 Day 4: Bayanzag – DZD town
After breakfast, we travel 90 kilometers (56 miles) through the Gobi Desert to a DZD settlement. We eat lunch at a neighborhood eatery before visiting the town's New Nature History Museum. Then, we head back to the Gobi Oasis Ger Camp.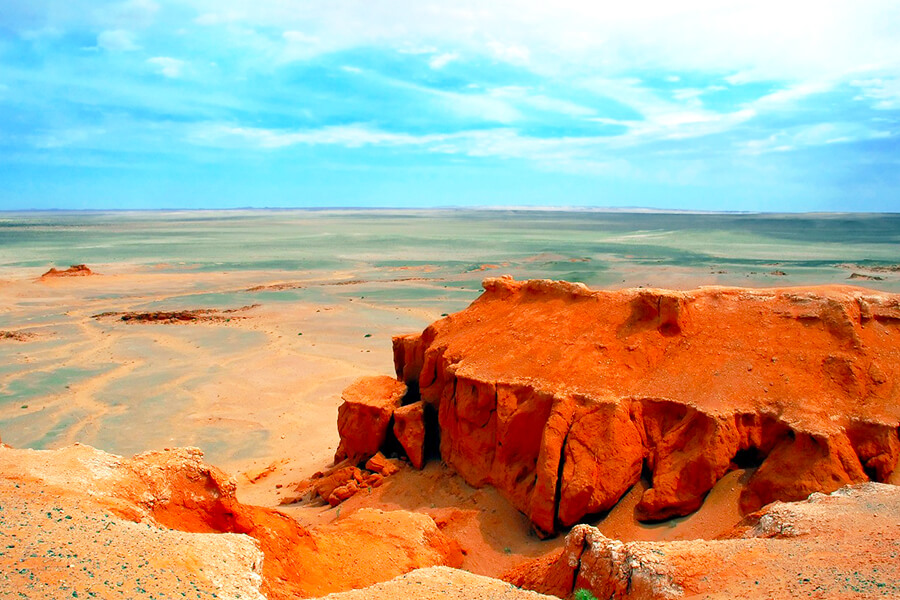 Day 5: DZD town – Tsagaan Suvarga
On this lovely day, we travel to Tsagaan Suvarga, the vibrant cliffs of the Gobi, the fabled Asiatic Sea's former bottom more than 75 million years ago. At the Caravan Serai camp, we arrive. We go to the Del Uul mountain to see the petroglyphs. Following the delightful break, we go to the Cliffs. Dinner and sleeping at the campsite.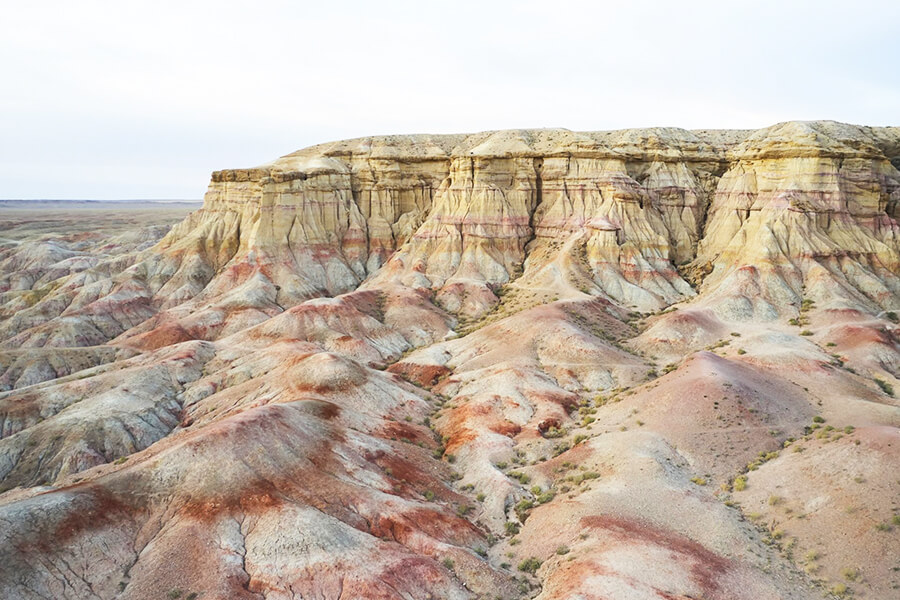 Day 6: Tsagaan Suvarga – Ulaanbaatar
We return to Ulaanbaatar after breakfast. Lunch on the go. Once at Ulaanbaatar, the tour comes to an end. Thank you for joining this Mongolia tour with Go Mongolia Tours.