General Information
Duration: 7 Days/6 Nights
Tour Route: Gurvanbulag sum, Khar Bukhiin Balgas, Shagai game, Suutei tsai, Orkhon river, rafting, Amarbayasgalant monastery, Uran Mountain, Bulgan and Erdenet
Intended Travel Date: Optional (Available all time)
Pick-up/Drop-off: Ulaanbaatar
Tour Style: Natural and Landscape, History and Culture
Guides: Local Guide (English Speaking Guide, Other Languages upon Request)
Transportation: Private First-class Air-conditioned Vehicles
Brief Itinerary
Day 1: Get to know the Nomad Community
Day 2: Discovering Nomad Culture
Day 3: Drive to Orkhon River & Prepare for Rafting
Day 4-5: Start rafting
Day 6: Rafting & Travel to Amarbayasgalant Monastery
Day 7: Depart
Full Itinerary
Day 1: Get to know the Nomad Community
We will pick you up from your accommodation in the morning and drive you 280 kilometers (4-5 hours) to Gurvanbulag sum (a local administration unit) in Bulgan province. The scenery is breathtaking. On the way, we will stop at Khar Bukhiin Balgas, which are stronghold ruins from the 10th century. Kitans established it as a defensive position against their opponents at the time. In the afternoon, you will mount a horse and ride throughout the area with a guide. You will attend the "Shagai" lesson in the evening, I t's a game in which you use sheep anklebones to play a wide variety of games. You will definitely enjoy playing the Shagai game with the local nomads. Shoot on a target to test your accuracy with Mongolian archery.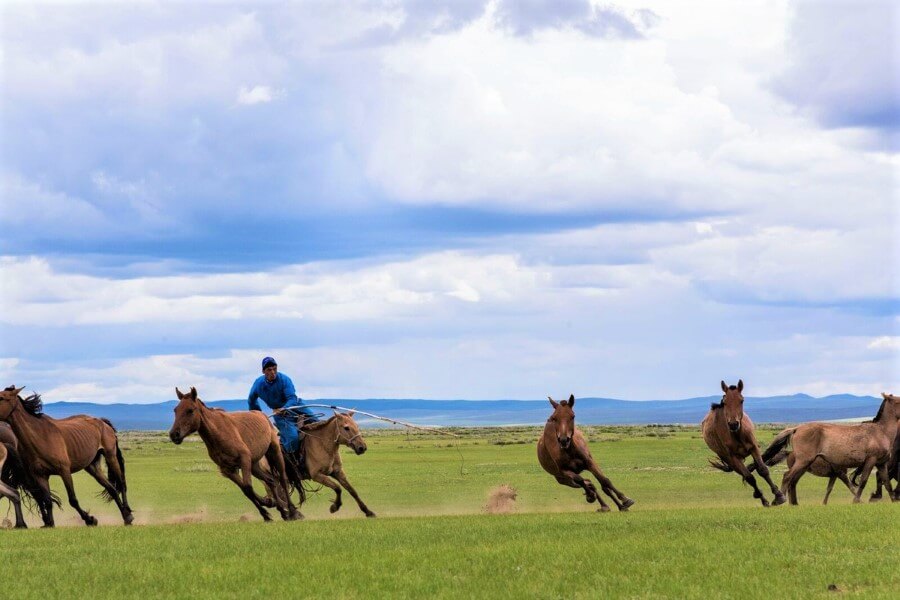 You will spend the night in the Gurvanbulag community ger camp.
Day 2: Discovering Nomad Culture
We will visit the nomad family in the morning and enjoy their traditional hospitality while learning about their culture. They sell unusual home-made special dairy goods including "aaruul" or dried curds, Mongolian salty milk tea or Suutei tsai, and so on. You may interact with nomads and learn more about their nature-loving lifestyle. After seeing the nomad family, we will take a 5-8km hike to nearby sand dunes. Dinner will feature "Khorkhog," a unique Mongolian BBQ roasted on hot stones. In the evening, we'll see Mongolian experienced cowboys catch horses with "uurga," or traditional wooden lassos, and tame an untamed horse that has never been ridden before.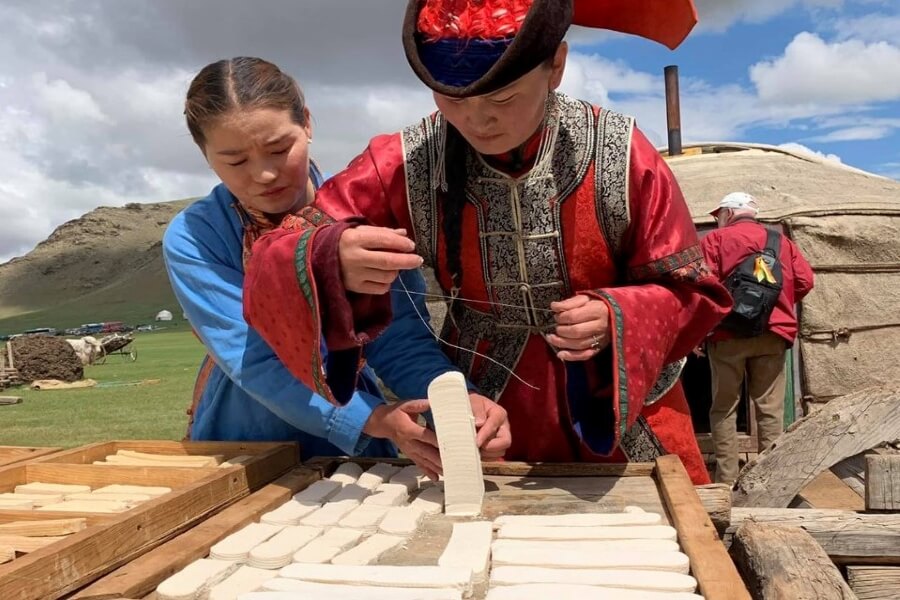 Stay in an authentic guest ger camp next to a local family for the night. Breakfast, lunch, and dinner are all provided.
Day 3: Drive to Orkhon River & Prepare for Rafting
We will start early in the morning and drive 280 kilometers to Saikhan Sum. We will prepare the boats and begin rafting for approximately 3-4 hours after arriving at our rafting starting spot. We'll set up camp near the Orkhon River's bank.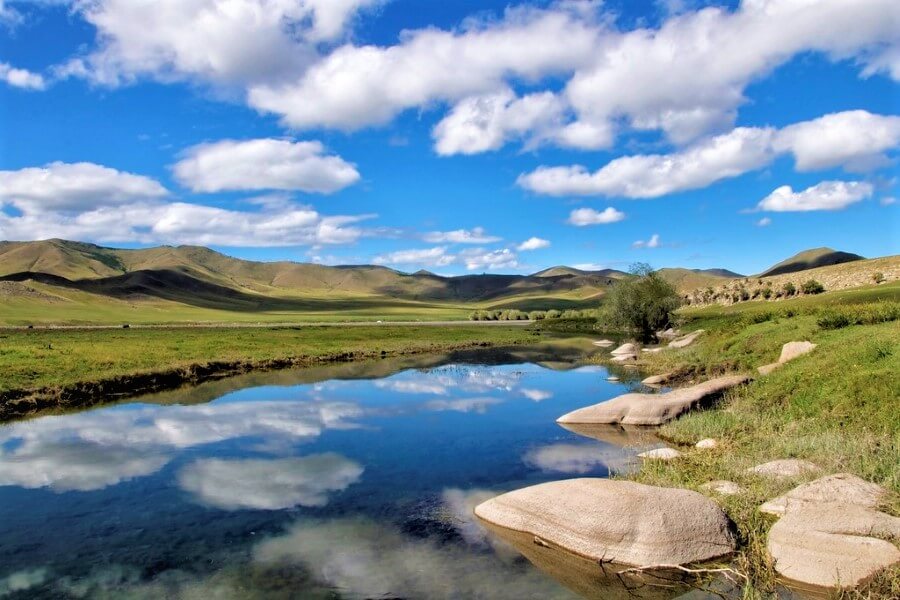 We will spend the night in a tent. Dinner, lunch, and breakfast are all provided.
Day 4-5: Start Rafting
After a quick rest in a camp and boat rigging in the morning, we will set out down Mongolia's longest river into its most remote canyon. While paddling on a quiet side of the river, you can spot an unsuspecting wildlife isolated by towering cliff walls. But when you get to the rapids, brace yourself for an adrenaline rush! We set up tent near the riverbank, upstream of the gorge and whitewater. We will spend the night in a tent.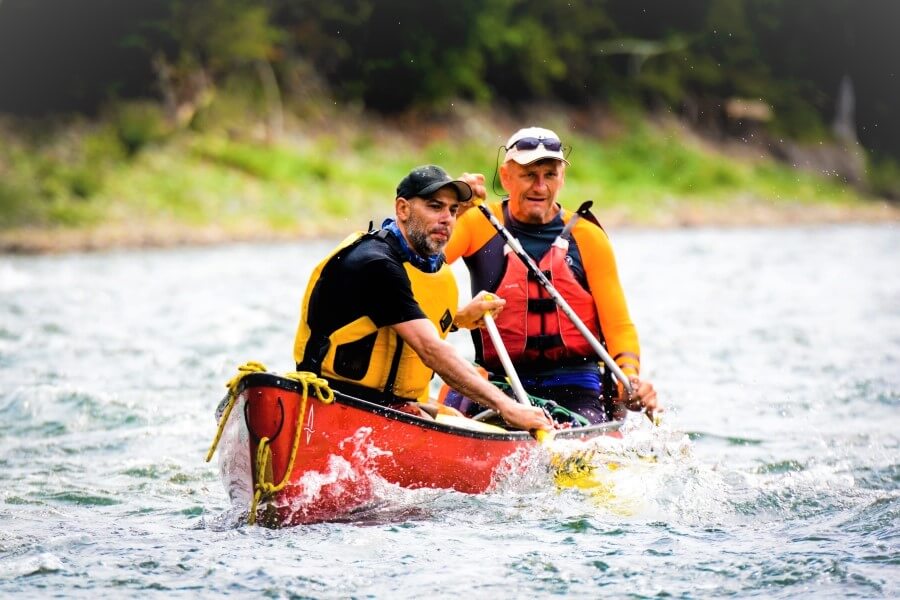 Day 6: Rafting & Travel to Amarbayasgalant Monastery
After a friendly breakfast of the local, we approach the canyon's deepest and narrowest section for some fast and closely spaced class III rapids. As we proceed downstream, the action will be intense, and we'll be returned to the vehicles after about 2-3 hours of rafting and sightseeing. After lunch, we will travel 200 kilometers to Amarbayasgalant monastery. Amarbayasgalant monastery is one of Mongolia's three main Buddhist institutions. We will visit Uran Mountain, an extinct volcano with a 600m broad and 50m deep crater, and explore the surrounding terrains. Continue your journey to the monastery by passing through Bulgan and Erdenet. When you get to Amarbayasgalant monastery, the guide will provide you with all of the relevant information.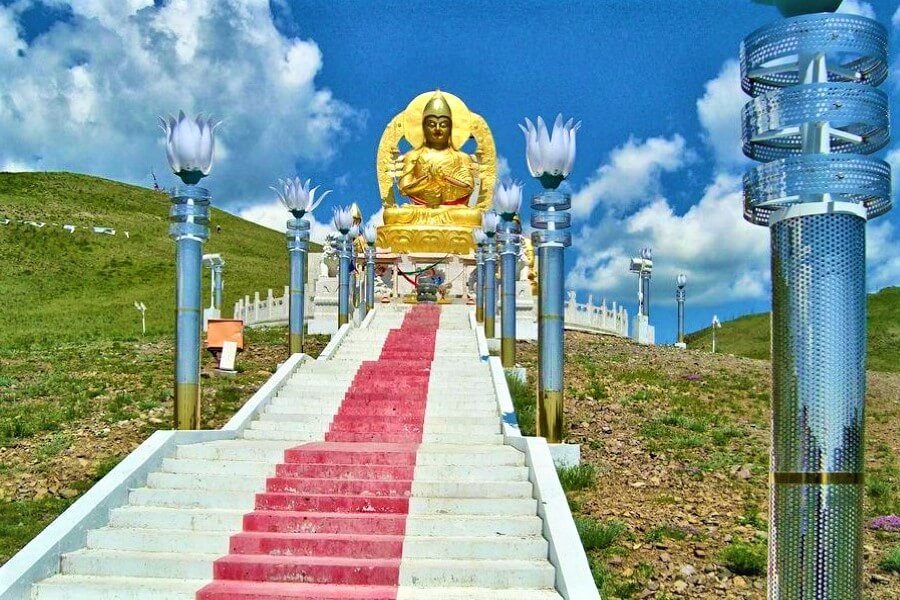 You will spend the night in a ger camp.
Day 7: Return to Ulaanbaatar
We will travel 340 kilometers back to Ulaanbaatar, primarily on paved roads. When you arrive in Ulaanbaatar, we will take you to your accommodation. End of the trip. Thank you for making your Mongolia trip with Go Mongolia Tours!