General Information
Tour Route: Ulaanbaatar – Tumen Ekh theater -Terelj National Park, Aryabal Temple – Chinggis Statue – Tuul River – Khan Khentii Mountains – Ulgii – Local Museum – Altai Mountains – Kazakh Bazaar Market – Golden Eagle Festival
Duration: 7 Days/ 6 Nights
Intended Travel Date: Optional (Available all time)
Pick-up/ Drop-off: Ulaanbaatar – Golden Eagle Festival
Tour Style: Natural and Landscape, History and Culture
Guides: Local Guide (English Speaking Guide, Other Languages upon Request)
Transportation: Private First-class Air-conditioned Vehicles
Brief Itinerary
Day 1: Ulaanbaatar, Sukhbaatar Square, National History Museum, Tumen Ekh Theater
Day 2: Terelj National Park, Aryabal Temple
Day 3: Chinggis Statue, Tuul River, Khan Khentii Mountains
Day 4: Altai Mountains, Kazakh Bazaar
Day 5: Kazakh Bazaar Market
Day 6: Golden Eagle Festival
Day 7: Depart
Full Itinerary
Day 1: Welcome To Ulaanbaatar, City Tour, And Dinner
After meeting your driver at the airport, drive to the city and relax in your hotel room. If you arrive early, meet your guide at the hotel reception at 14:30 for a half-day Ulaanbaatar city tour, beginning with the majestic Sukhbaatar Square and ending with a guided tour of Mongolia's heritage at the National History Museum. Then enjoy a welcome dinner and a traditional music and dance performance in the Tumen Ekh theater in the evening.
Ending the first day of the trip by spending the night in a regular twin/double room at the Ramada Hotel with dinner prepared.
Day 2: Explore Terelj National Park, Aryabal Temple, Nomadic Family, And Horse Riding
Board the vehicle and head east to Terelj National Park after meeting our guide at 08:30 a.m. The journey will take 2 hours with 60km. When you arrive, go straight to the sacred turtle rock. Then climb a hill to an Aryabal meditation temple. After returning back, drive 10 kilometers off-road to a nomadic family living nearby. Drink milk tea upon arrival, eat homemade lunch, and learn about nomadic cultures and lifestyles. If you're up to it, mount a horse and ride to the nearby hills with your guide in the afternoon.
No previous horse riding skill is required; Mongolian horses are small, and all easy to control for riders; you could be enjoyable quickly, and your guide will assist you. Return to the family's campsite and enjoy a nomadic meal of Buuz (steamed dumplings) and khorkhog (mutton cooked with hot stones) in the evening – you can help with the cooking if you want. In the evening, you can get along with your nomadic hosts over flavorful vodka made from fermented mare's milk, or you can go stargazing in the clear Mongolian sky.
Stay in an authentic guest ger camp next to a local family for the night. Breakfast, lunch, and dinner are all provided.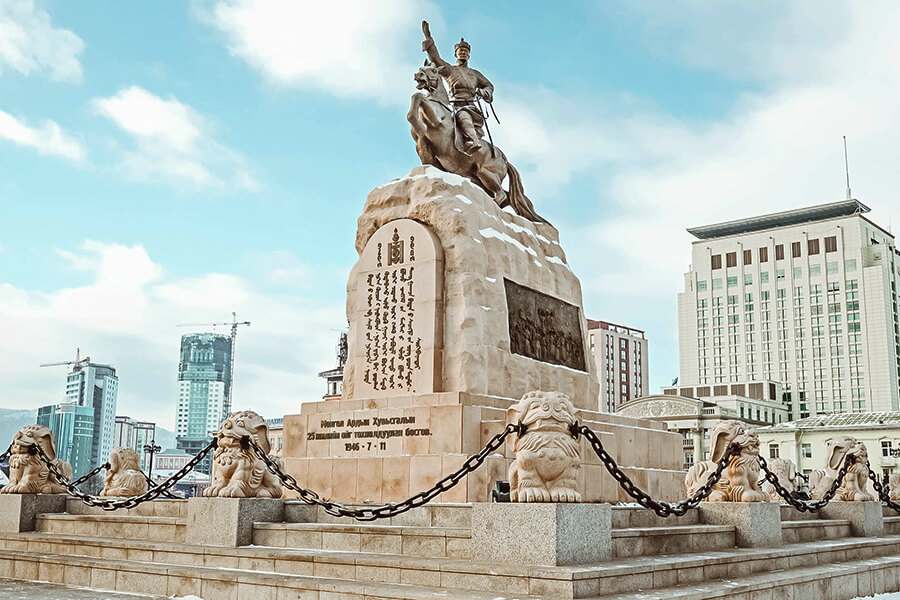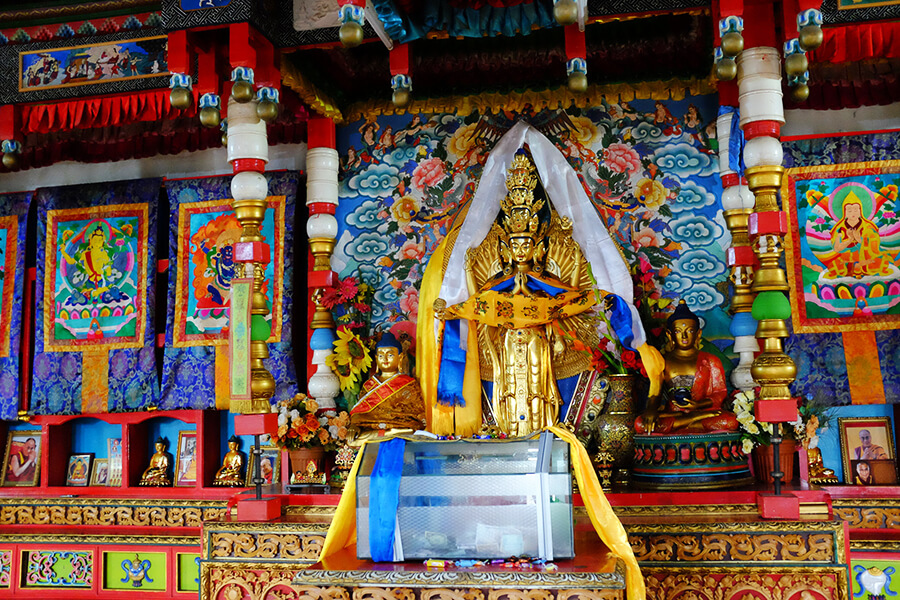 Day 3: Ride On A Mountain Bike, Off-Road Drive To Chinggis Statue, And Flight In A Gyrocopter
After a home-cooked breakfast, hop on the quality mountain bikes we brought with us from Ulaanbaatar and follow your guide through the Terelj National Park. Riding will be on a relatively flat dust trail but if you prefer not to ride, just simply stay at the ger and observe nomads rounding up their families, and you can join in too. After returning, go on an exciting off-road vehicle excursion to the Chinggis Statue complex, which is 35 kilometers away. The 40-meter-high statue stands where legend has it that Chinggis Khan discovered the golden whip. Discover the local museum inside, then go up the staircase to the observation deck for spectacular views of the Tuul River and the Khan Khentii mountains. Return to Ulaanbaatar, board the vehicle once again, arrive in time for dinner, and relax in your hotel room.
Stay the night in a regular twin/double room at the Ramada Hotel. Dinner, lunch, and breakfast are all provided.
Day 4: Fly To Ulgii, Visit The Local Museum, And Visit Kazkh Bazaar
On this 4th day, you will fly to Ulgii, the capital of Mongolia's westernmost province, located over 1000 miles from Ulaanbaatar and surrounded by the breathtaking Altai Mountains. The town has a strong Kazakh influence, and ethnic Kazakhs represent the majority of the community here. Upon arrival, our local guide will meet you at the airport and take you to the local museum and Bazaar (market). You'll be staying in a guest ger next to a Kazakh eagle hunter near Ulgii this night. Spend the evening together learning about Kazakh culture and traditional eagle hunting, which is still experienced in this region.
Stay in a guest ger camp next to a Kazakh eagle hunter for the night. Breakfast, lunch, and dinner are all provided.
Day 5-6: Golden Eagle Festival In Ulgii
The annual Golden Eagle Festival is taking place for 2 days. Eagle hunters from all over the region gather to display their birds, which weigh 12-15 pounds and have a wingspan of up to eight feet. The festival begins with a horseback parade of hunters, followed by a variety of shows and competitions in which birds are assessed on their speed and agility, then the winners will be announced. Traditional Kazakh games, such as "BushKushi" (goatskin grabbing on horseback), camel races, coin picking from the horseback, and others, are also on display during the festival. During these 2 days, you will have lunch at the festival site from one of the local stalls – the traditional specialty is Huushuur (fried meat pastries). On the first day evening, enjoy a performance of traditional Kazakh songs and music and stay at a local ger, and on the second day, after the award ceremonies, head to the airport for your 5.50 pm flight to Ulaanbaatar, where you will enjoy a farewell dinner before settling into your hotel room for your final night in Mongolia.
Overnight in a local ger in Ulgii (first day) and the Ramada Hotel (second day). On both days, breakfast, lunch, and dinner are included.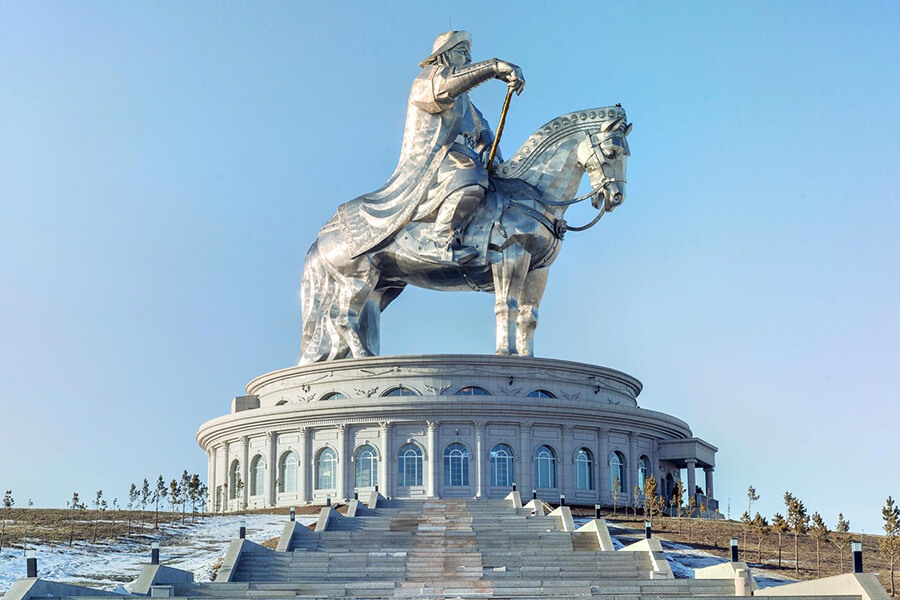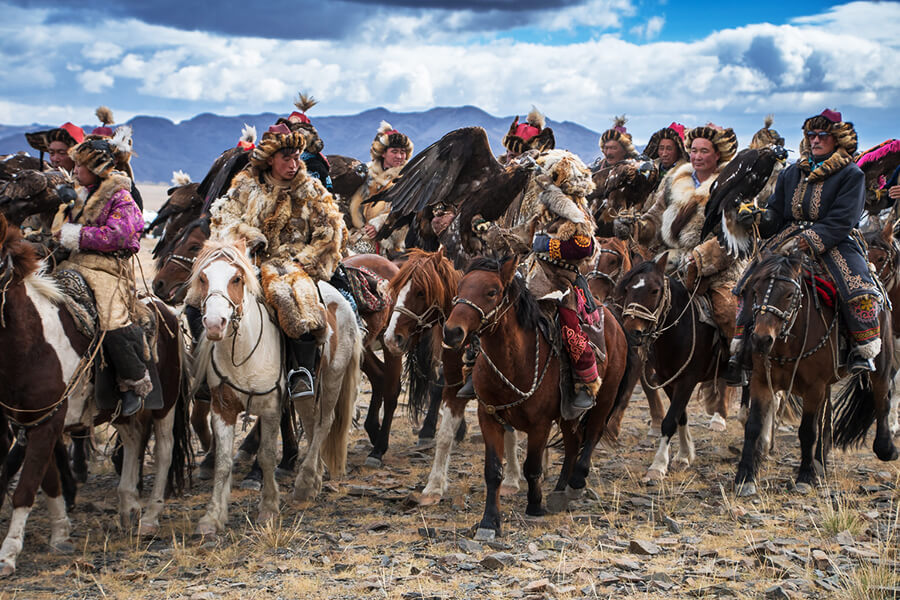 Day 7: Depart
Our driver will meet you at the hotel at a scheduled time and transfer you to the airport (45 minutes to 1 hour depending on traffic) for your flight home. Thank you for making your Mongolia trip with Go Mongolia Tours!