General Information
Tour Routine: Fly To Ulgii – Altai Mountains – Tavanbogd National Park – Potanin Glacier Walk – Mt. Malchin Summit – 10 Days Trekking Expedition – Tuvan Nomads – Kazakh Eagle Hunters – Ancient Petroglyphs And Rock Paintings – Takhlit Pass – Khoton Lake
Duration: 12 days/11 nights
Intended Travel Date: Optional (Available all time)
Start/End: Ulaanbaatar
Tour Style: Natural and Landscape, History and Culture
Guides: Local Guide (English Speaking Guide, Other Languages upon Request)
Transportation: Private First-class Air-conditioned Vehicles
Brief Itinerary
Day 1: Fly To Ulgii, Tavan Bogd National Park
Day 2: Altai Mountains, Altai Tavanbogd National Park
Day 3: Tavan Bogd National Park,. Mt. Malchin
Day 4: Mount Malchin, Altai Mountains
Day 5: Shiveet Khairkhan Mountain
Day 6: Khar Saraa Valley
Day 7: Takhilt Pass, Baavgait Valley
Day 8: Khoton Lake
Day 9: Khoton Lake
Day 10: Khoton Lake, Visit Kazakh households
Day 11: Ulgii
Day 12: Ulaanbaatar
Full Itinerary
Day 1: Fly To Ulgii And Drive Into The Altai Winderness
You will take a flight today to Ulgii, the capital of Mongolia's westernmost region, which is more than 1000 kilometers from Ulaanbaatar and situated in the breathtaking Altai Mountains. Meet our driver and take a transfer to the airport from your accommodation or another Ulaanbaatar spot of your choosing. You will be met at customs by our local guide, and you'll have the opportunity to tour the town and eat meals. Kazakh culture predominates in Ulgii, where ethnic Kazakhs make up the bulk of the community. Take the Russian off-road vehicle for a 4-hour (100km) trip into the wilderness toward the Tavan Bogd National Park in the afternoon. Tonight you will set up camp towards the middle of the park, amidst the picturesque Altai Mountains.
Stay overnight camp in local ger. Lunch and dinner are included.
Day 2: Travel To Tavan Bogd National Park And Meet Local Guides
Travel to the Altai Tavanbogd National Park after a filling camp-prepared breakfast. Today's journey will take five hours and cover 150 kilometers, but the view is amazing, there will be picture opportunities, and there will also be a detour to check out an intriguing region with prehistoric rock drawings. The tent will be put up close to the gers of ethnic Tuvan people when we arrive at the National Park; they will supply the camels for tomorrow's trip. There is a chance to go see them in their gers and discover more about their customs and lifestyle as nomads.
Tent camping at night. Our cook will make dinner, lunch, and breakfast.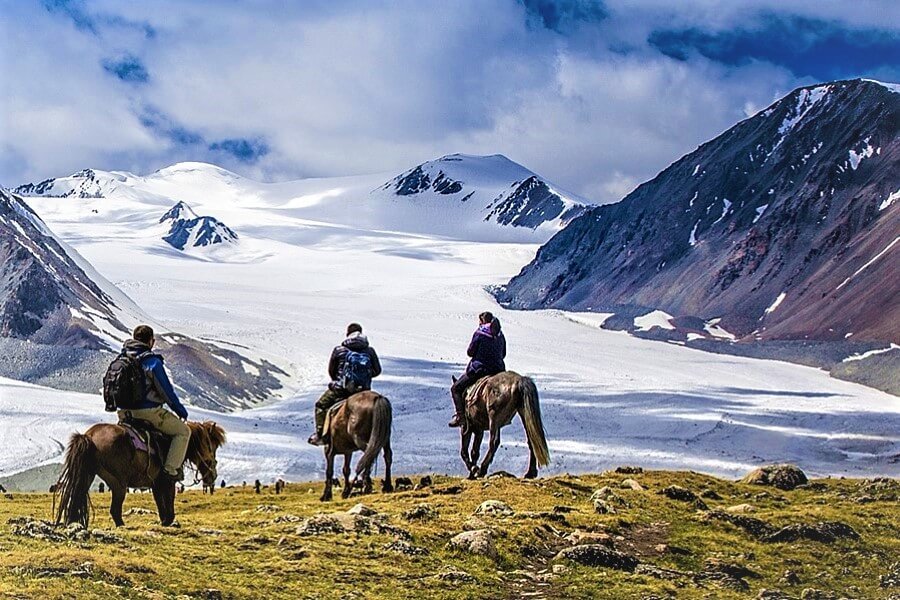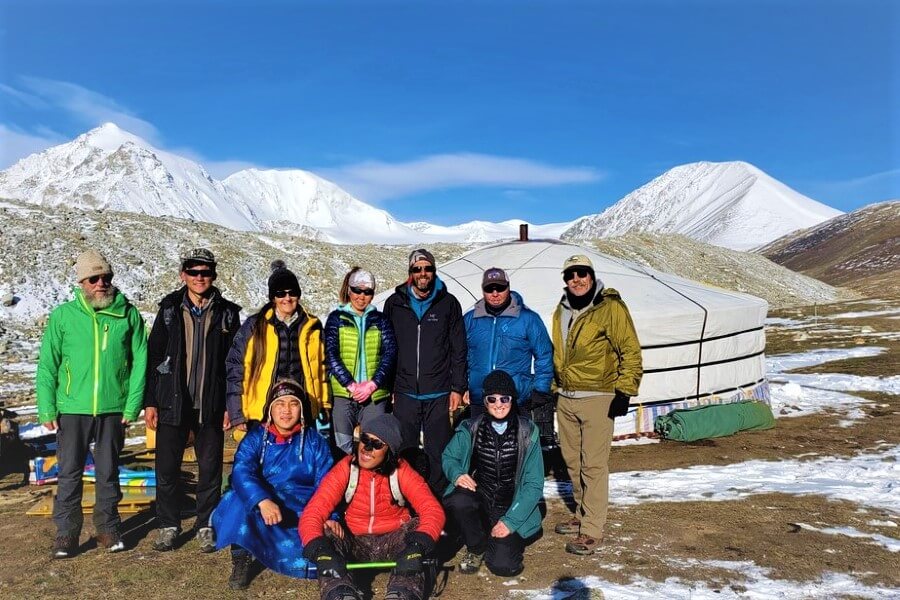 Day 3: Trek To Potanii Glacier
Start your climb into the Altai Mountains with the tour experts as once camels are packed with supplies and gear among the breathtaking scenery of the Tavan Bogd National Park. For the native Kazakhs, Tuvans, and Mongolians, the place is sacred. The walk today is 16 kilometers long, which, based on your own pace, may be completed in four hours. Arrive at the Potanii, Mongolia's biggest glacier, have lunch, and then take a stroll on the ice. Enjoy the breathtaking views of Mt. Malchin, which we'll climb the next day, from there. Return to the campground, which will be established just beyond the glacier's edge, and stay overnight in your tents.
Overnight camping in tents. Breakfast, lunch and dinner will be prepared by our cook.
Day 4: Mount Malchin Summit
After a healthy breakfast, go out for a magnificent walk on Mount Malchin. A reasonably fit person can easily complete the 6-mile climb, yet it will take them around 4-5 hours to reach the summit since it is 4037m above sea level. Have a delicious meal, take in the panoramic view of the Altai Mountains from the peak, and return to your campsite in time to enjoy dinner.
Tent camping at night. Our cook will make dinner, lunch, and breakfast.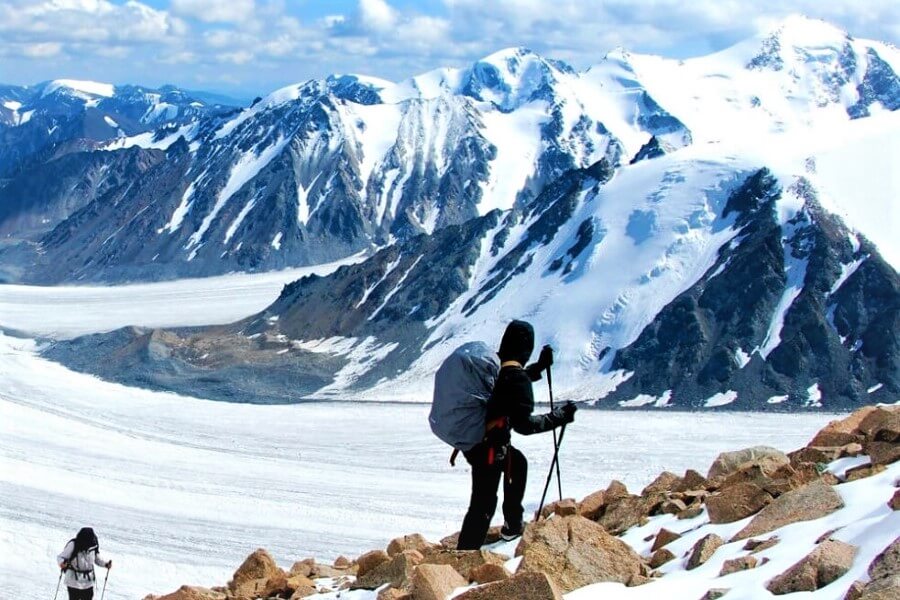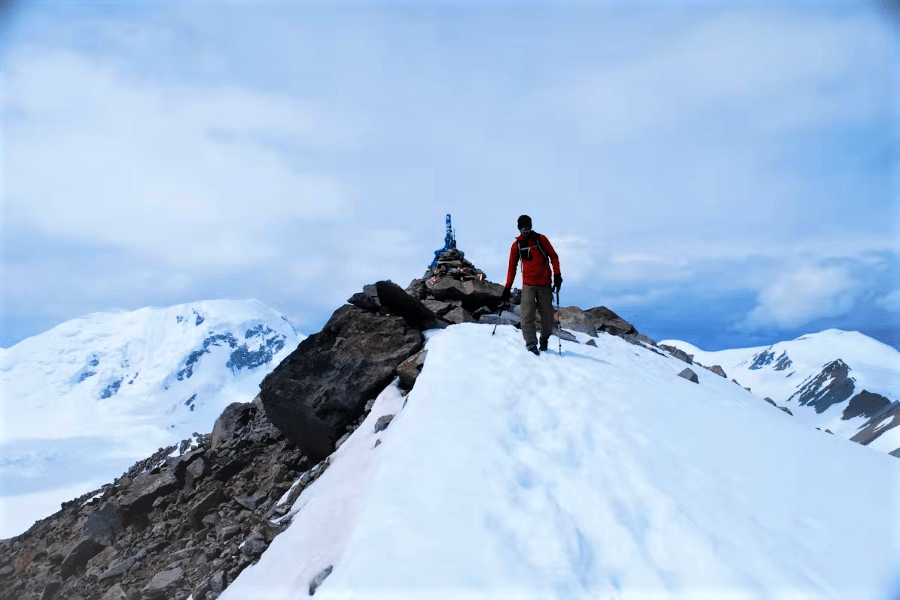 Day 5: Trek To Shiveet Khairkhan Mountain
The 20-kilometer hike today will be easier and shouldn't take more than 5 hours, but that does not mean it won't be as beautiful! These mountains are home to several wild creatures, including ibex and eagles, which you could spot. Travel in the sacred to the local nomads slopes of Shiveet Khairkhan Mountain in the early afternoon. The tent will be set up tonight close to one of the Tuvan nomadic families of herders that are typically camping in their gers in the valley below. You will get the chance to visit the family ger in the evenings and discover more about their traditions and way of life. Camp at a 2,500 m height next to the family campsite.
Tent camping at night. Our cook will make dinner, lunch, and breakfast – but the local nomads may also offer food for dinner.
Day 6: Trekking To Khar Saraa Valley
After a hearty breakfast and coffee, we will begin the hike after traveling for 10 kilometers, traveling first by the UNESCO-listed. Khar Saraa Valley, which is home to several structures, deer stones, and old rock carvings that date back to the Paleolithic. Following visiting the area and having a meal, hike for a further two hours to arrive at the campground, which is 2450 meters above sea level and is located next to smaller lakes.
Tent camping at night. Our cook will make dinner, lunch, and breakfast.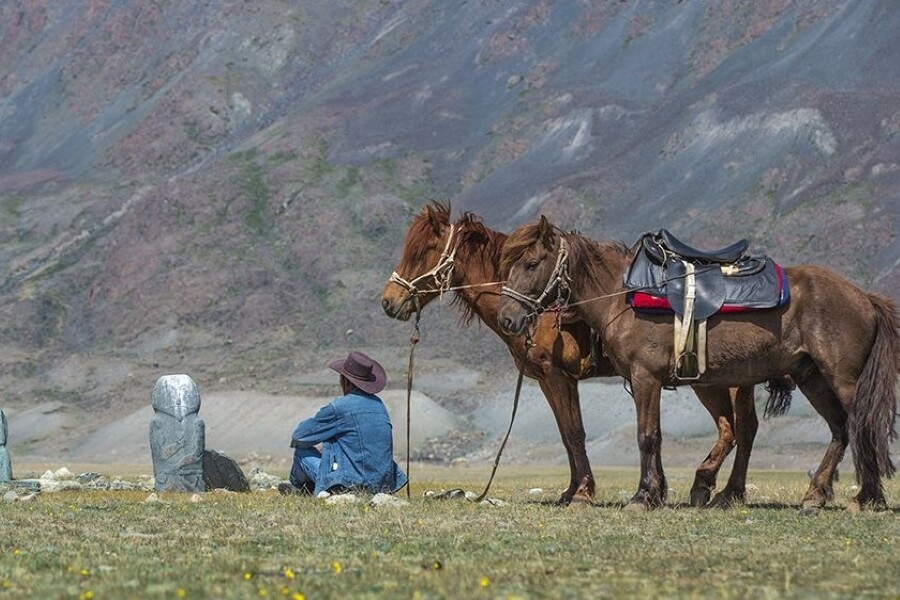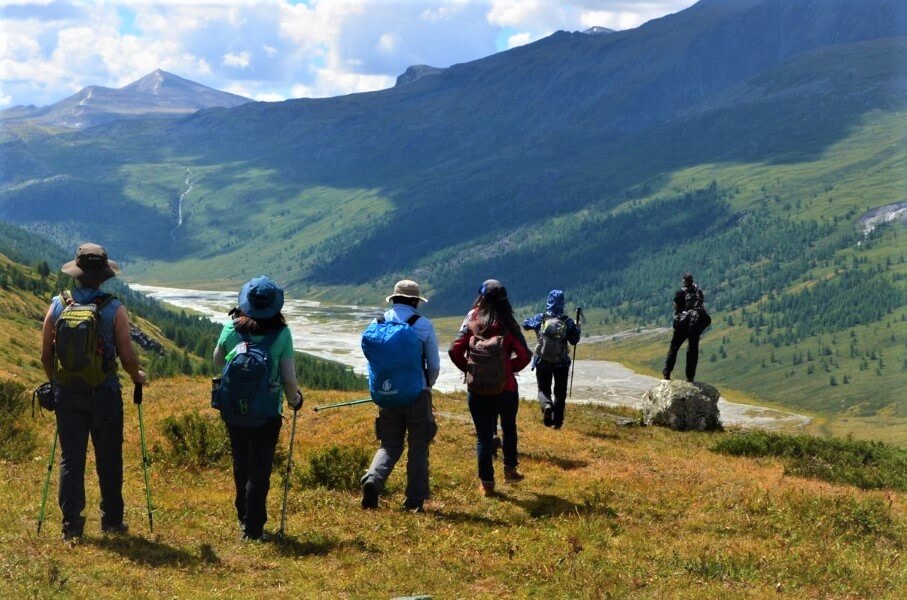 Day 7: Trekking To Baavgait Valley
Spending more time with your loved ones today and observing them taking care of their animals, milking their cows, or creating felt before starting the journey slightly later. So get your tents ready and head to Takhilt Pass, which is located at 3600 meters. The majority of this 7-kilometer trek is on ice, making it more challenging than the treks from the previous days. After completing the 10-kilometer descent to the charming. Baavgait Valley, where you'll spend the night, enjoy lunch near the high pass.
Tent camping at night. Our cook will make dinner, lunch, and breakfast.
Day 8-9: Trekking To Khoton Lake
On these two days, the route would be simpler and mostly through the beautiful landscapes and little glacial lakes of the area. You will go a little more than 30 kilometers in 2 days through a larch forest on the way to Khoton Lake. Arriving to Lake Khoton here on the second day in the early afternoon.
Tent camping at night. Our cook will make dinner, lunch, and breakfast.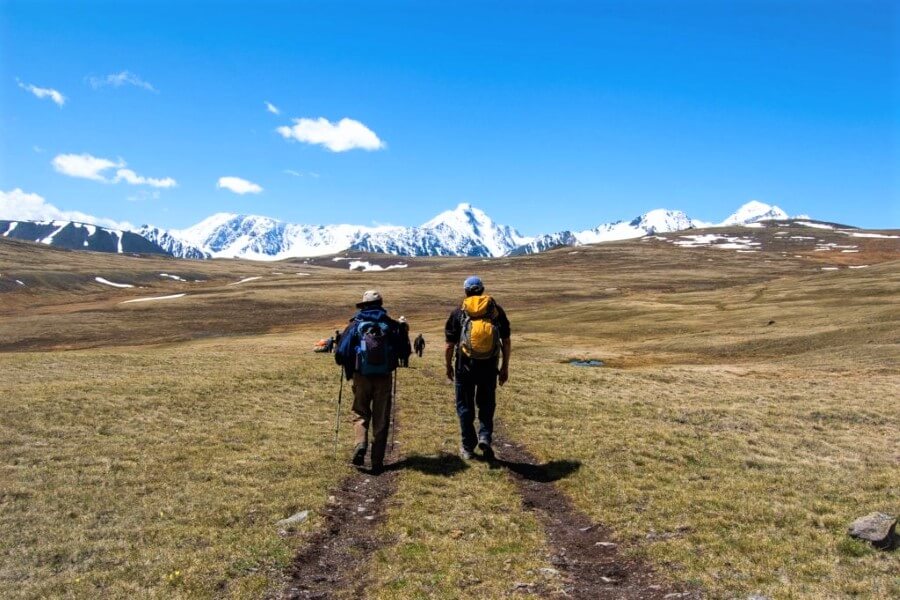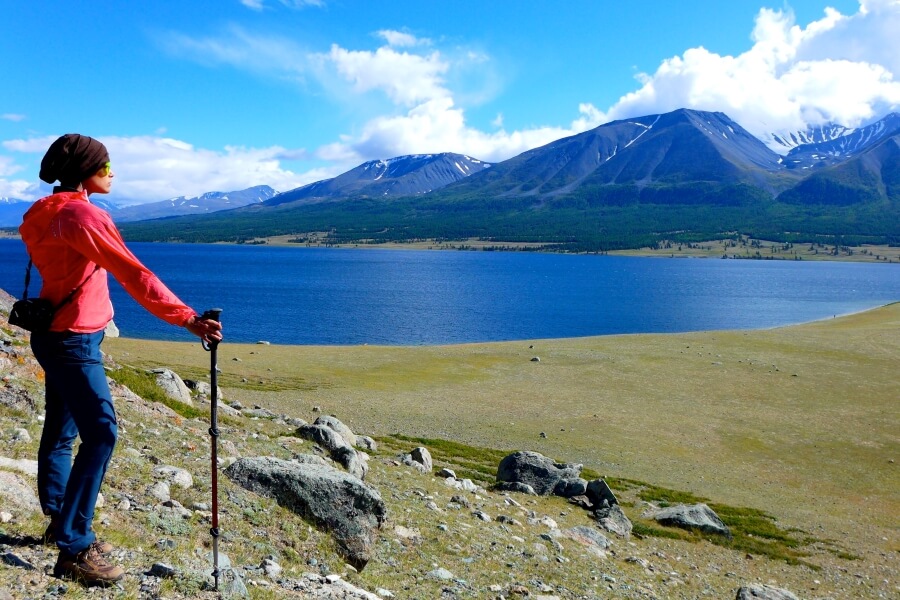 Day 10: Visit Kazakh Eagle Hunter Family
Kazakh nomads spend their summer months camped out by Lake Khoton. Each morning, they trek a small distance to view one of the Kazakh households. You'll note that the interior of Kazakh gers is larger and distinct from that of Mongolian or Tuvan gers. As you interact with your nomads hosts in the ger and discover more about their eagle hunting customs, approach. You will get the chance to take a traditional culinary class with your cooks in the lovely campground environment in the evening. You will be able to make Buuz (steamed dumplings), Huushuur (fried meat-filled pastry), and other Mongolian specialties.
Tent camping at night. Our cook will make dinner, lunch, and breakfast.
Day 11: Drive To Ulgii
You will meet your driver today and travel back to Ulgii via car. There will be a lunch stop along the road, maybe by some historical sites and deer stones. You will pass a few nomadic Kazakh and Tuva gers on the lengthy, rough trip, which is really picturesque. You could pause to look at the clothing and accessories for sale there. Later in the day, arrive at Ulgii Ger Camp, take a bath and have supper in the camp's restaurant.
Ulgii ger camp for the night. Dinner, lunch, and breakfast are all included.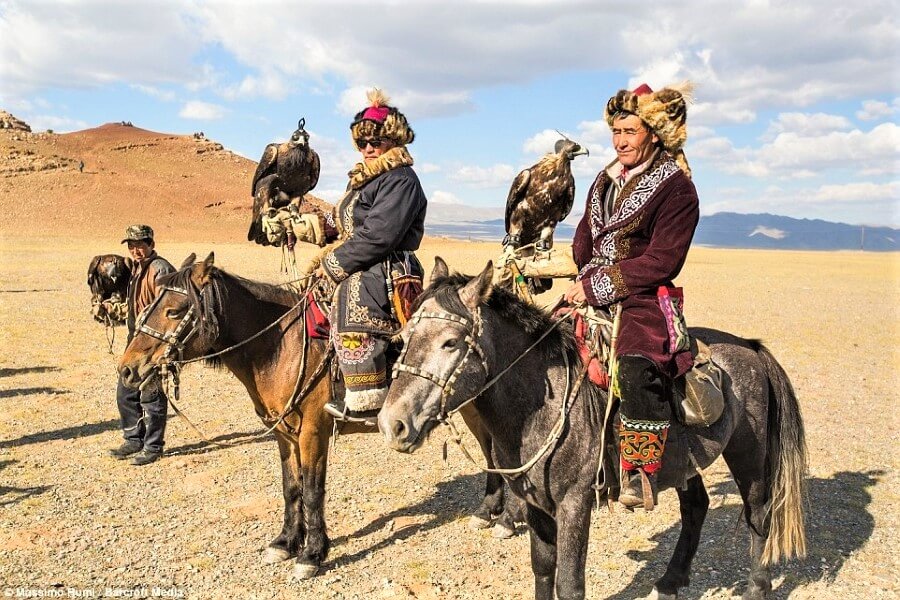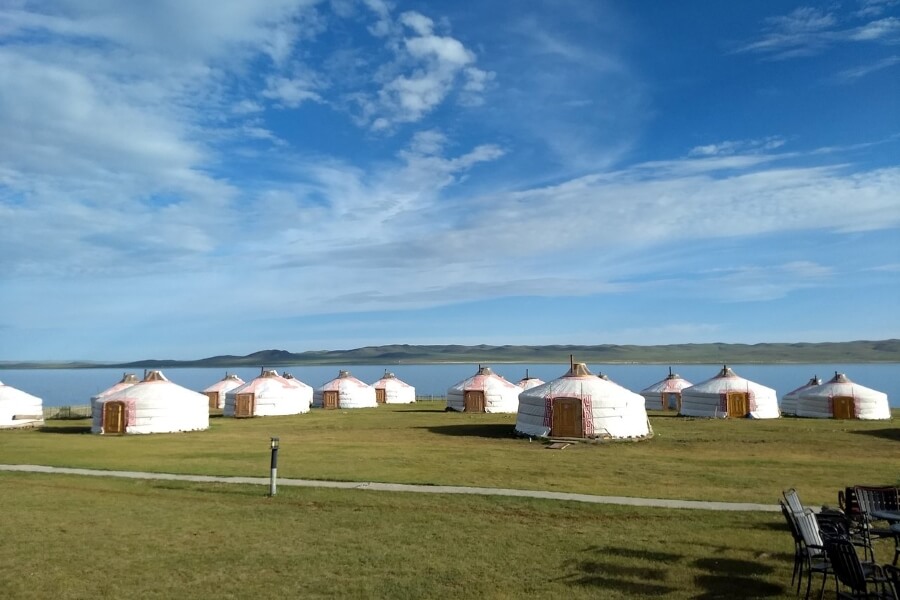 Day 12: Fly To Ulaanbaatar
Travel to the nearby airport in the morning, then take a flight back to Ulaanbaatar. The aircraft takes off at 11 am and makes a stop along the way before landing at 3 pm. When you land, our driver will be there to meet you and take you to your accommodation or another location of your choosing.
Breakfast is included. Thank you for joining this Mongolia tour packages with Go Mongolia Tours!