General Information of Mongolia Tour
Duration: 12 Days/ 11 Nights
Tour Routine: Ulaanbaatar City Tour, Tumen Ekh Theater – Murun, Northern Khuvsgul Province – Off-road Trip To Tsagaannuur – Ride On Horseback In East Taiga – Learning Tsaachin Family, Taiga – Campfire, Shamanic Ceremony – Return To Tsagaannuur – Khuvsgul – Lake Khuvsgul, Khatgal Village – Huushuur – Murun town – Ulaanbaatar – Airport
Intended Travel Date: Optional (Available all time)
Pick-up/Drop-off: Ulaanbaatar/Murun town
Tour Style: Natural and Landscape, History and Culture
Guides: Local Guide (English Speaking Guide, Other Languages upon Request)
Transportation: Private First-class Air-conditioned Vehicles
Brief Itinerary:
Day 1: Ulaanbaatar City Tour, Tumen Ekh Theater
Day 2: Murun, Northern Khuvsgul Province
Day 3: Off-road Trip To Tsagaannuur
Day 4: Ride On Horseback In East Taiga
Day 5: Learning Tsaachin Family, Taiga
Day 6: Campfire, Shamanic Ceremony
Day 7: Return To Tsagaannuur
Day 8: Khuvsgul
Day 9: Lake Khuvsgul, Khatgal Village
Day 10: Huushuur
Day 11: Murun town, Ulaanbaatar
Day 12: Airport
Full Itinerary:
Day 1: Welcome To Ulaanbaatar
After meeting your driver at the airport, go to the city and relax in your hotel room. If you arrive early, meet your guide at the hotel desk at 14:30 for a half-day Ulaanbaatar city tour, beginning with the imposing Sukhbaatar Square and ending with a guided tour of Mongolia's past at the National History Museum. In the evening, attend a traditional music and dance performance at the Tumen Ekh theater, followed by a welcome meal at a fusion restaurant.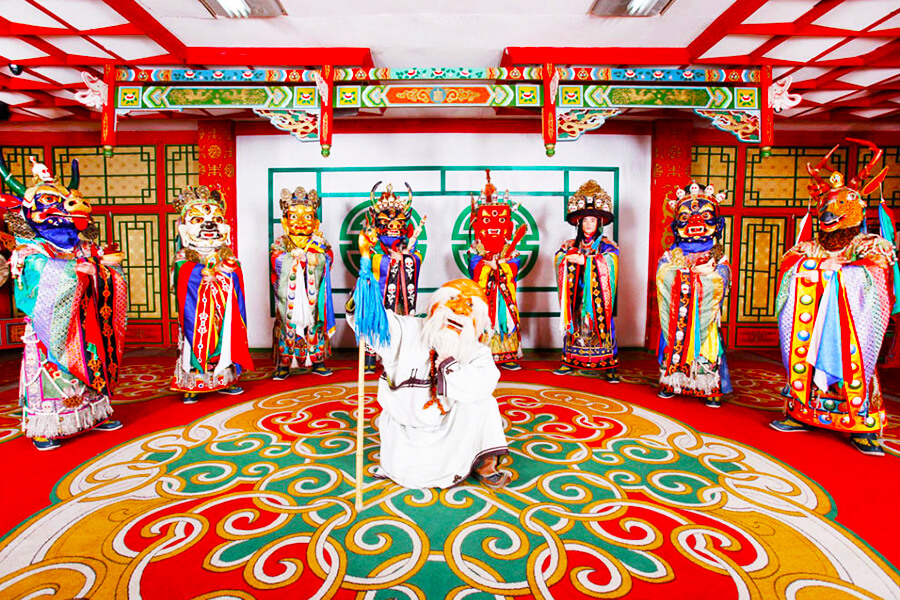 Stay in a standard twin/double room at the Grand Hill Hotel (3★). Dinner is served.
Day 2: Drive Into The Wildeerness Off Murun
After breakfast, you will meet your driver at the hotel desk at 8:30 a.m, then be transferred to the airport, and flown north to Murun in the northern Khuvsgul province. The flight takes a little over an hour, and you will meet our local driver upon arrival. Take a walk through town and the local market before stopping for lunch at a local restaurant. Then, in the afternoon, board the off-road vehicle and head northwest towards the mysterious Taiga. You'll camp halfway, and the exact place will depend on the weather, but today's travel should take 3-4 hours (70-120km). Tonight you will camp among the magnificent hills and forested valleys on the Taiga's border. In the evening, relax around a campfire with a scrumptious homemade meal.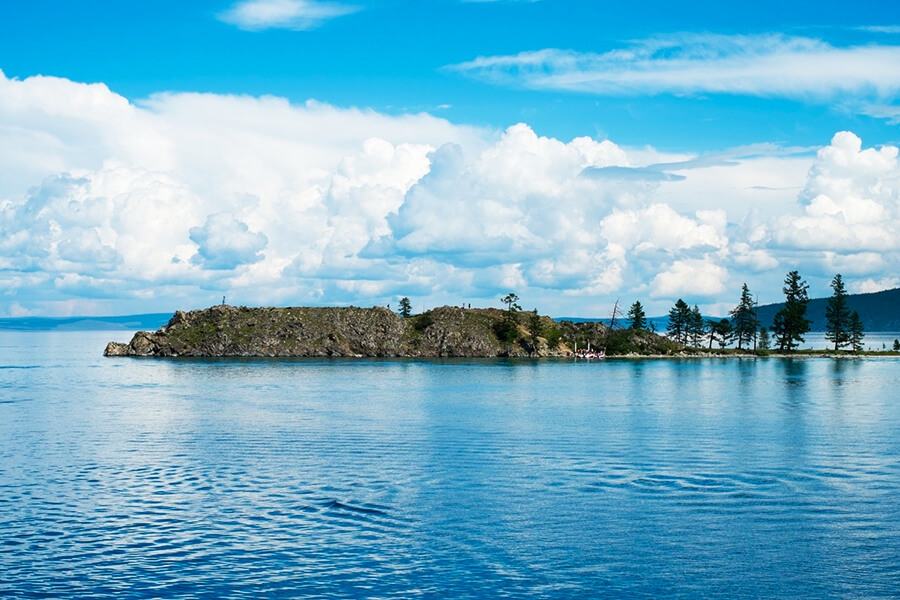 Overnight tent camping. Breakfast, lunch, and dinner are all included.
Day 3: Off-Road Drive To Tsagaanuur
Pack up the tents and continue the spectacular off-road trip to Tsagaanuur, a remote outpost village on the taiga's outskirts. The drive could take around 4 to 8 hours (170km), depending on weather and trail conditions. En route, you will pause for an outdoor meal. You'll spend the night at a nearby ger camp, complete with facilities and a restaurant. While you rest at the tent, your guide will acquire border permits for tomorrow, as you will be traveling close to the Russian border. Tsagaannuur is located at an elevation of 2350m above sea level.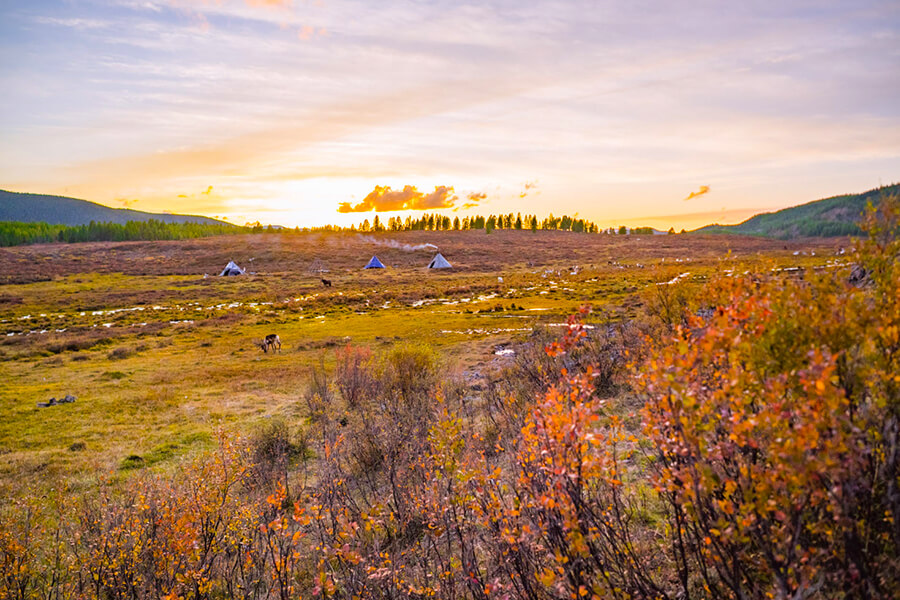 Overnight stay in a ger at a community ger camp organized by locals. Breakfast, lunch, and dinner are all provided.
Day 4: Ride On Horseback In East Taiga
After breakfast in the camp, drive 20 kilometers across a river to meet your local Tsaatan guides. This is the furthest point for 4WD vehicular access; from now on, the trip is only continued on horseback or on foot. After preparing the horses and packing all of the equipment and supplies, there will be a quick horseback riding lesson before mounting your horse and entering the taiga. All luggage, equipment, and provisions will be carried by pack horses, and you will be accompanied by a local cook, Tsaatan wranglers, and your Mongolian guide. The ride may take 3 to 7 hours depending on the time of year, as Tsaatan tribes are nomadic and move frequently. When you arrive, meet your host family of reindeer herders and spend the evening with their Teepee. This is also a nice time to exchange gifts. After dinner, spend your first night sleeping in a Teepee.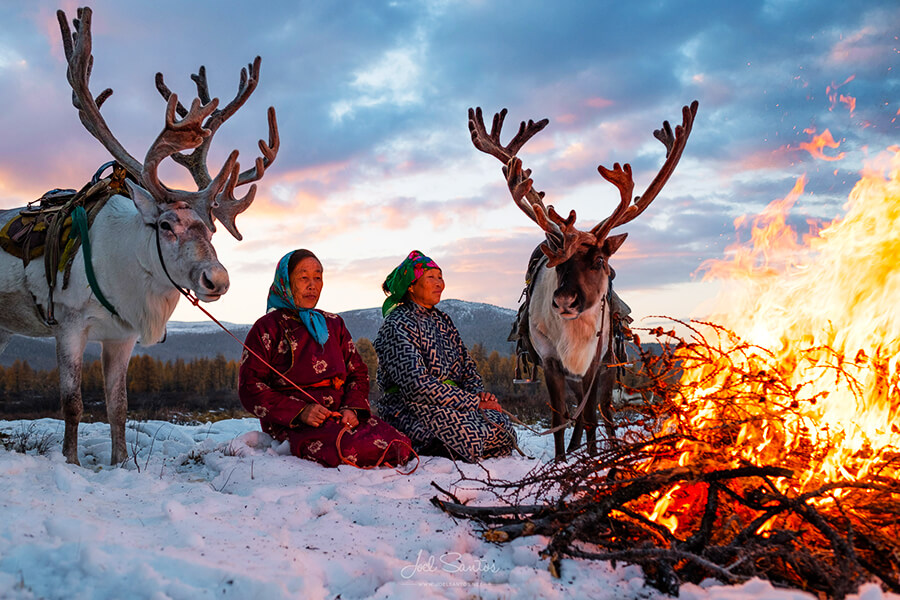 Overnight in a teepee. Breakfast, lunch, and dinner are all provided.
Day 5: Encounter With Tsaachin Communities 
Spend today learning about the Tsaachin family's way of life, customs, and traditions. You may have the opportunity to visit another family who lives nearby and depending on your guides' decision, you may spend the night with them as well. Today is also a wonderful day for photographing the stunning landscapes of the Taiga. You will also be able to assist with reindeer milking or herding and may even be able to ride one.
Day 6: Acknowledge The Shamanism in Mongolia
Today, continue your exploring with the Tsaachin families by horseback. In the evening, you will ride to a genuine local shaman. Shamanism was prohibited for 70 years under communist authority, but it remained in these distant areas. Tsaachin regards Shamanism as a means of communicating with the souls of individuals who lived long ago, rather than as a religion. Enjoy your evening around the campfire under the huge Mongolian sky before the shamanic ceremony begins around midnight.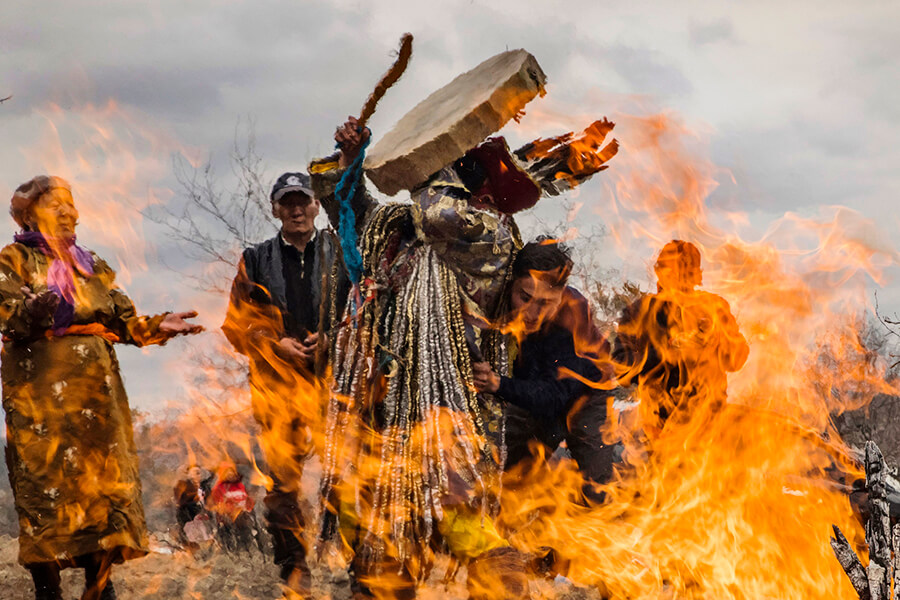 Stay in a Teepee for the night. Breakfast, lunch, and dinner are all served.
Day 7: Return To Tsagaannuur From The Horse Trek
Today you will say goodbye to your Tsaatchin hosts and return to the vehicle's pickup place. Today, you must go 15-25 kilometers on horseback in muddy terrain, which will take the better part of the day. Continue on to Tsagaannuur, where you will stay in a local ger camp and have a restaurant lunch and shower before settling into your gers.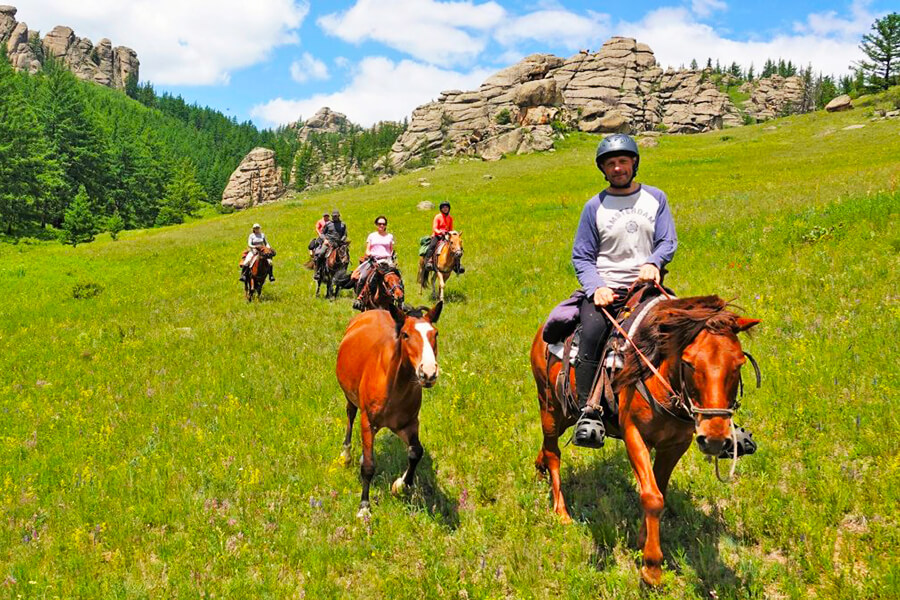 Day 8: Off-Road Driving 
Today you will begin your journey back to Khuvsgul. Board the off-road vehicle and stop for lunch along the way. You'll camp in the wild halfway to the lake, in a beautiful setting.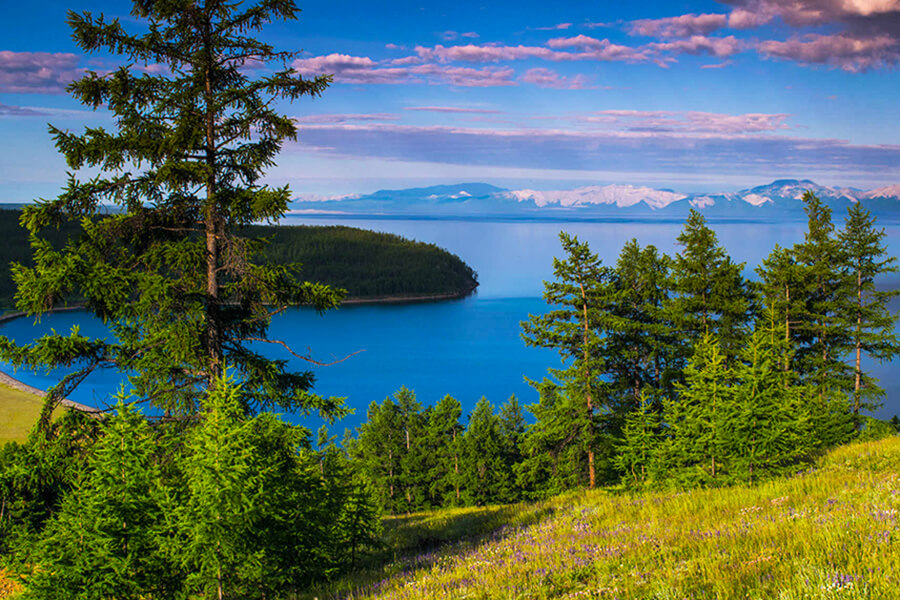 Tent camping for the night. Breakfast, lunch, and dinner are all prepared.
Day 9: Ship Trip To Sukhbaatar, Cycling, Hiking, And Rest At Khuvsgul Lake
After a rustic breakfast, continue the trip to Lake Khuvsgul, arriving in time for lunch at a Khatgal village. Following that, board the Sukhbaatar boat for a voyage to a vantage point on the other side of the lake. Climb to the top and take in the views of Khuvsgul Lake and the Taiga. After returning by ship to Khatgal, you will have the opportunity to go hiking or cycling on trails along the lakeshore on mountain bikes rented from the camp. In the evening, have dinner at the camp and, if the sky is clear, you can view some great stargazing.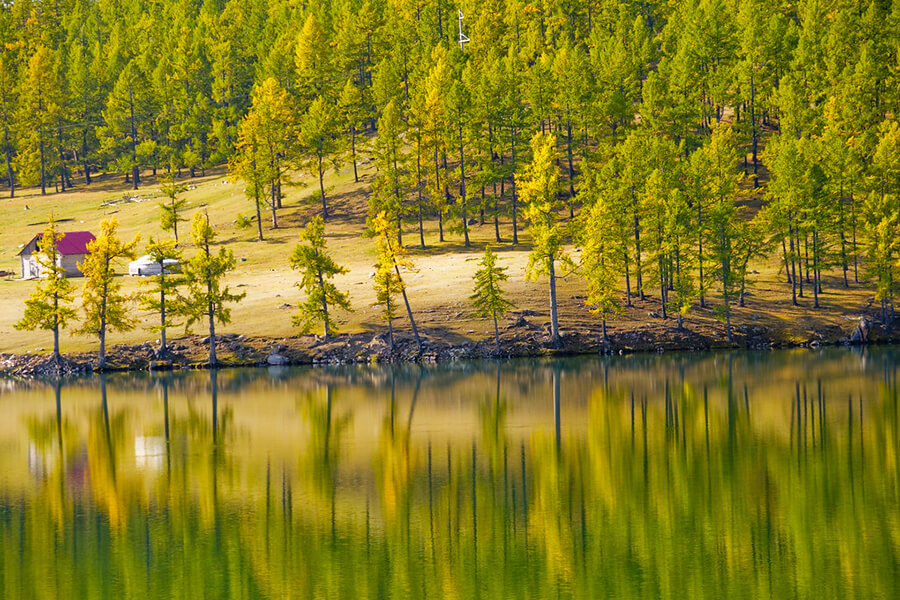 Stay in a regular ger in the Ashikhai ger camp for the night. Breakfast, lunch, and dinner are all prepared.
Day 10: Relax Day At Khuvsgul Lake
After a leisurely breakfast, walk throughout town, perhaps stopping by the main street to sample local seafood or Huushuur. On the beach, you may also rent paddleboats. If you're feeling adventurous, you can try bathing in the icy waters of the lake, or you can explore the area on a mountain bike, which you can rent from the camp. In the afternoon, simply relax at the camp and take in the breathtaking scenery.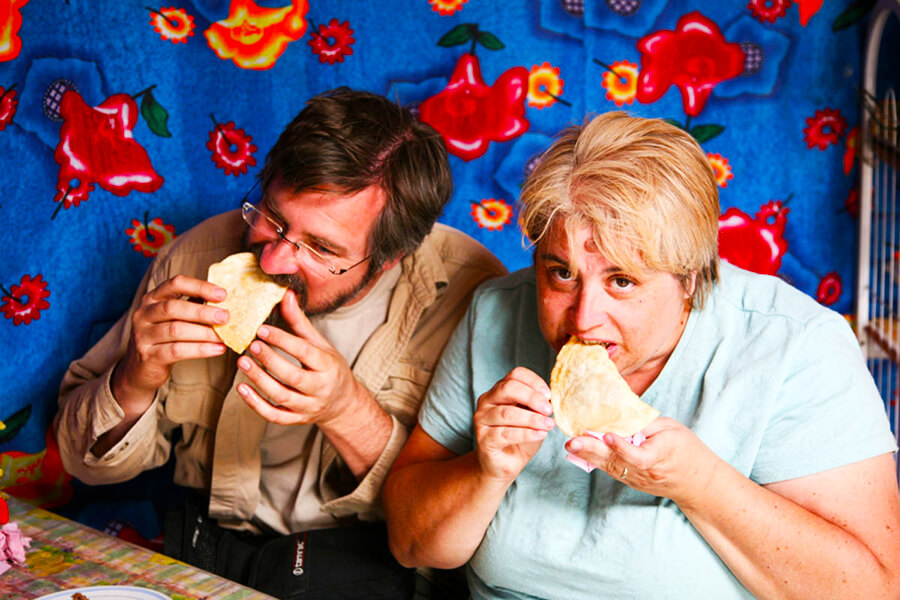 Day 11: Return To Ulaanbaatar
We will go 100 kilometers to Murun town in the morning. Transfer to the domestic airport and fly back to Ulaanbaatar. Arrive in Ulaanbaatar and make your way to your accommodation. Cashmere and souvenir shopping, then enjoy a nice farewell dinner. Spend the night in a hotel.
Day 12: Departs
Transfer to the airport for your flight after breakfast. Thank you for traveling with Go Mongolia Tours!