General Information
Duration: 5 Days/4 Nights
Tour Route: Gurvanbulag, Gurvanbulag Ger Camp, Khognokhaan Mountain, Khar Bukhiin Balgas, sand dunes, Nomad Library Project, Mongolian horseracing and horse training, Horse riding, Mongolian traditional costume show, Mongolian archery
Intended Travel Date: Optional (Available all time)
Pick-up/Drop-off: Ulaanbaatar
Tour Style: Natural and Landscape, History and Culture
Guides: Local Guide (English Speaking Guide, Other Languages upon Request)
Transportation: Private First-class Air-conditioned Vehicles
Brief Itinerary
Day 1: Gurvanbulag Ger Camp, Khognokhaan Mountain, Khar Bukhiin Balgas
Day 2: Sand dunes, Nomad Library Project
Day 3: Mongolian horseracing and horse training, Horse riding
Day 4: Mongolian traditional costume show, Mongolian archery
Day 6: Return to Ulaanbaatar
Full Itinerary
Day 1: Travel to the Gurvanbulag Ger Camp
We will pick you up from your accommodation in the morning and drive you 280 kilometers (4-5 hours) to Gurvanbulag sum (a local administration unit) in Bulgan province. Gurvanbulag is an excellent camp founded by a few local families who live in the majestic Khognokhaan Mountain nature reserve. On the route, we will stop at Khar Bukhiin Balgas, which are stronghold ruins from the 10th century. Kitans employed it as a defensive position against their opponents at the time.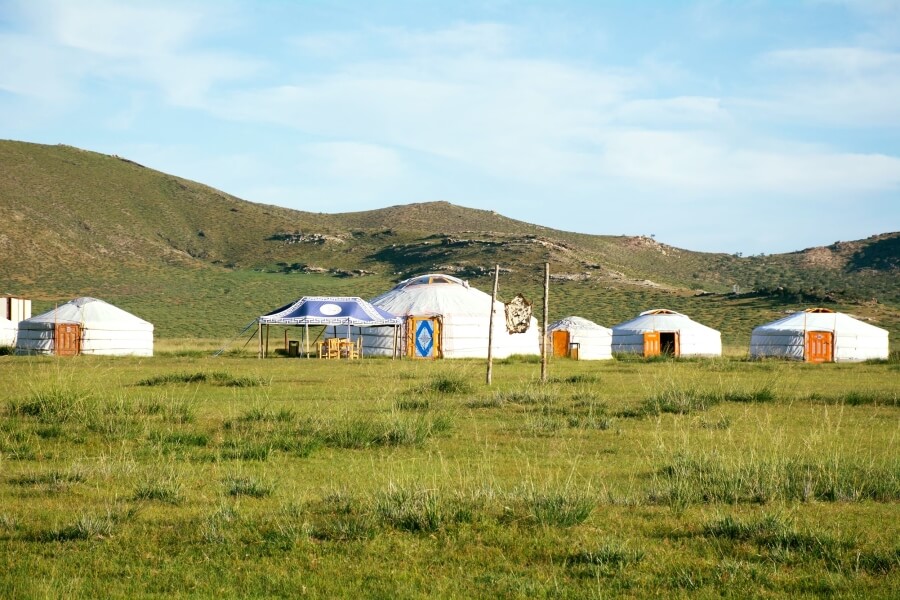 We will rest and refresh after lunch in the Gurvanbulag eco camp.
Day 2: Discover the Distinctive Nomadic Lifestyle
We will visit the nomad family in the morning and experience their traditional hospitality while learning about their culture. They sell unique home-made special dairy goods including "aaruul" or dried curds, Mongolian salty milk tea or Suutei tsai, and so on. You may interact with nomads and learn more about their nature-loving lifestyle. We will hike 5-6 kilometers to a tiny sand dunes for 2-3 hours in the afternoon. Look into the "Nomad Library Project," where you can play Mongolian puzzle games and learn about Mongolian literature. You may see our exclusive movies about Mongolian horseracing and horse training in the evening.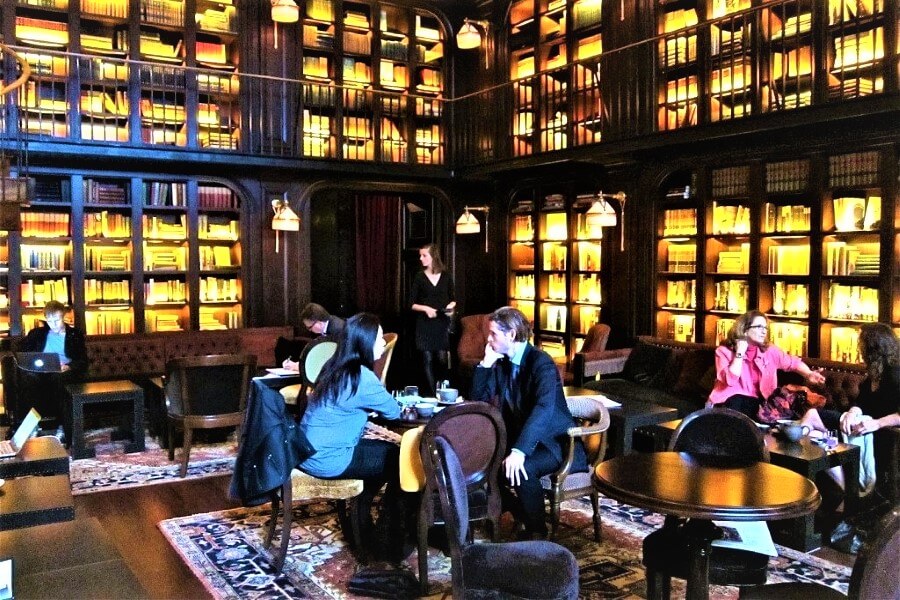 We'll spend the night in the Gurvanbulag community ger camp.
Day 3: Experience Horse Riding and Nomadic Horse Culture
We will attend an hour-long lecture about Mongolian horses and lessons on how to ride a Mongolian horse in the morning. We'll gallop through the gorgeous plains of the surrounding area before lunch. In the afternoon, we'll observe Mongolian skilled cowboys catch horses using a "uurga," or traditional wooden lasso, and tame an untamed horse that has never been mounted before. In the evening, see the film "Mongolian wrestler."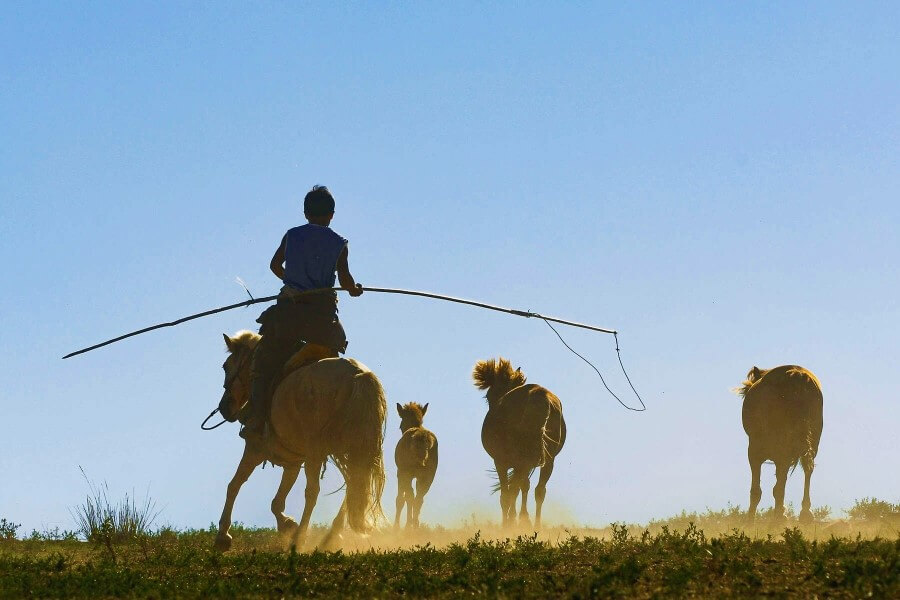 We'll spend the night in the Gurvanbulag community ger camp.
Day 4: Learning About Nomad Heritage
We will help you in setting up a nomadic ger house in the morning. Following a traditional cuisine lunch, experience a Mongolian traditional costume show and dance with locals, as well as a photo in traditional costumes. You can practice Mongolian archery in the afternoon.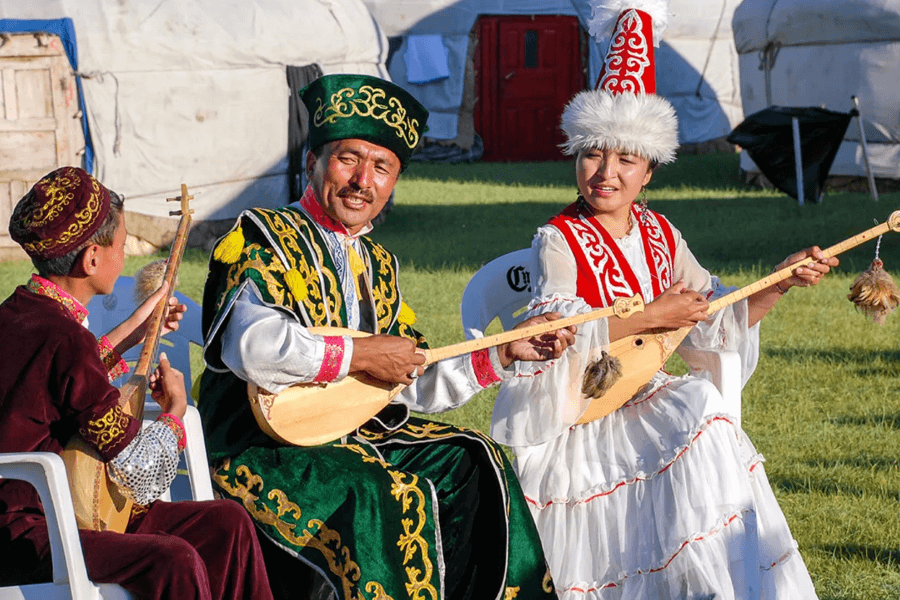 We'll spend the night in the Gurvanbulag community ger camp.
Day 5:

Return to Ulaanbaatar
We will travel 280 kilometers back to Ulaanbaatar in the morning. We will then transport you to your accommodation. End of the tour. Thank you for making your Mongolia trip with Go Mongolia Tours!