A trip to Mongolia is unlike any other, therefore more than anyplace else, tips to choose your tours in Mongolia are  crucial to pick a tour that fits your goals, constraints, and expectations. Choosing to visit Mongolia is frequently the realization of a dream, particularly for horse riders. Can you picture yourself galloping alongside Mongol nomads across endless steppes?
But a lot of factors need to be considered if you want your travel to live up to your ambition. The guidance from Go Mongolia Tours will therefore be unquestionably valuable to you.
Is Mongolia a Destination for You?
The endlessness of Mongolia's beauty, which is accentuated by white yurts and a colorful Buddhist temple, leaves one feeling dizzy in the presence of its untainted, enormous natural beauty. If rugged terrain does not terrify you, Mongolia is the place for you, nature lovers, and thoughtful types!
Meetings with a very endearing nomadic community, living in a sea of greenery between heaven and hearth, riding their horse, and devoted partner of a lifetime, make up the emotion of Mongolia. Because of the country's vastness and extremely low population density, which results in poor road infrastructure, travel can be tiresome and lengthy.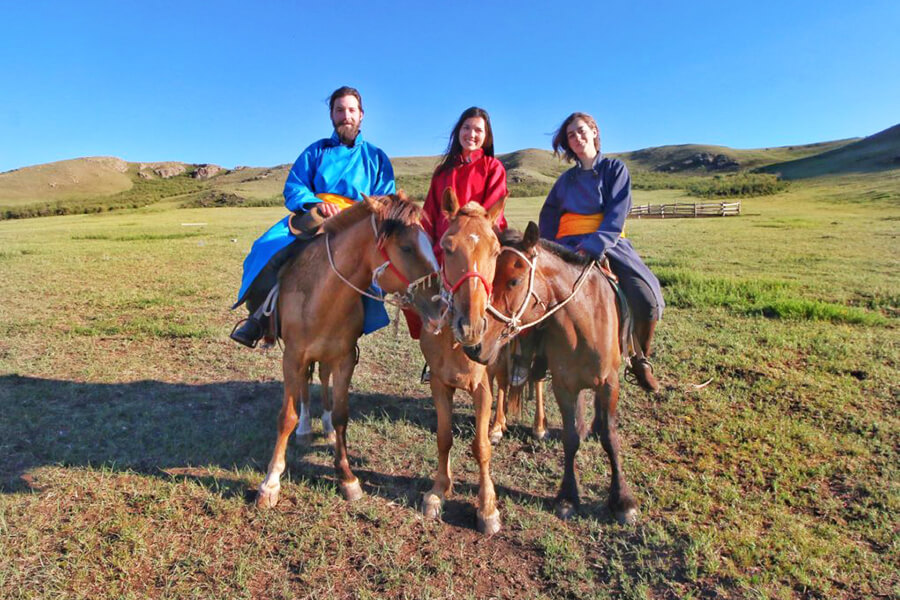 By minimizing time spent traveling, and staying in the Orkhon Valley region, for instance, you may explore a significant portion of Mongolia's varied landscapes. The "true traveler," who is willing to forgo some of their financial comforts to go on what is frequently a once-in-a-lifetime excursion, is rewarded with the joy that awaits them.
Horse Riding in Mongolia
Can you think of a more magnificent way to experience Mongolia than riding a horse, the animal that represents freedom to the Mongol nomads? Discover the range of our horseback riding trips throughout all of Mongolia if you are an experienced rider!
Non-riders are eager to try horseback riding.
For the many riders, we take to the Mongolian steppes each year, choosing a horseback riding tour is an easy decision, but a fit non-rider can also have the chance to experience this sport in incredibly satisfying conditions there.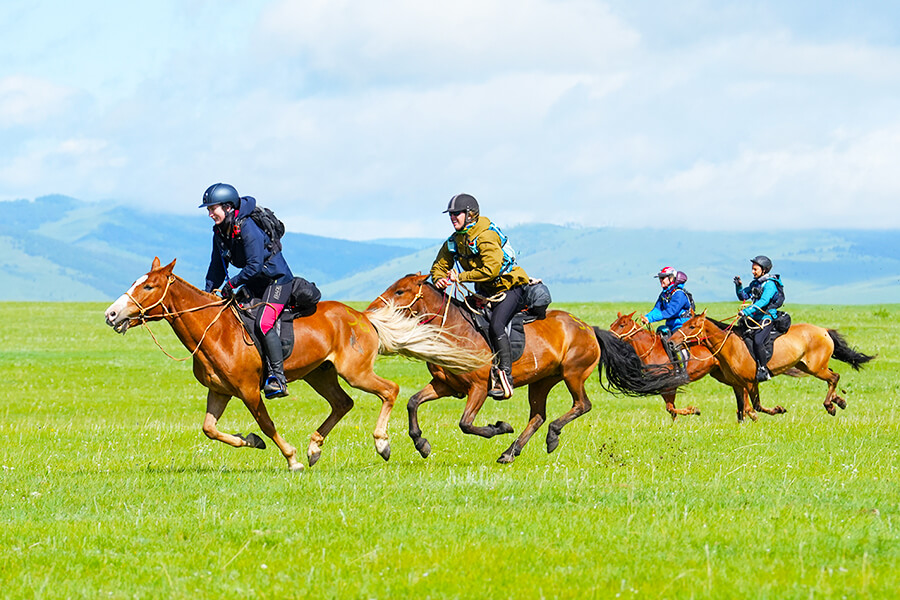 If you are physically capable (have experience trekking, for example), you may select an equestrian trip. We specifically designed our Hiking and Horseback riding tour for you! Additionally, we propose our "Nomadic Life" trip, which was designed specifically to explore different areas of Mongolia while living in the guest ger with nomads and providing you the option to ride a horse with the nomadic family if you so want.
As with all of our excursions, this one is extremely simple to private, so you can travel with family and friends without worrying about your riding ability in comparison to the other members of the group, who may be experienced riders.
Hiking in Mongolia
In Mongolia, hiking is an excellent option to spend a few days in close proximity to this amazing natural environment. The trekking is moderately challenging anywhere else but the Altai Mountains. You will stroll through larch woods, broad valleys, sweeping hillsides, and untamed rivers. You will see nomadic households every day, and their roving herds of horses, yacks, sheep, and goats are an essential component of the scenery and the enjoyment of those trekking excursions! Families may enjoy a regular hiking pace thanks to our specially designed Family excursions, which include a horse for the kids to rest on as required.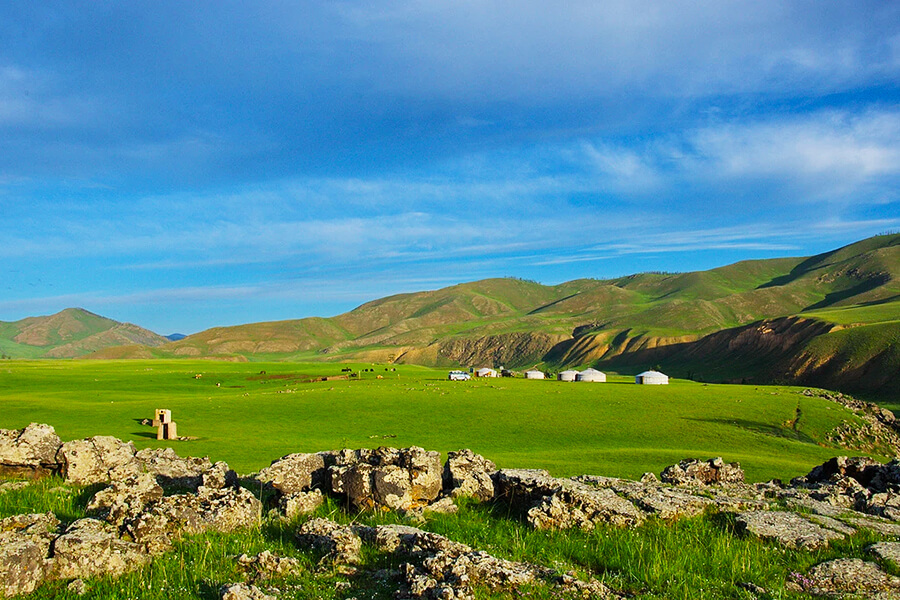 Join one of our discovery trips in a 4×4 with your knowledgeable driver and one of our hand-picked English-speaking guides if you don't want to ride a horse or go hiking. When a horseback ride or trek dedicates itself to an in-depth examination of an area, our discovery tours in Mongolia are the only option to see many distant locations of Mongolia in a single voyage. Additionally, since horses cannot survive there and the temperature is too harsh for hiking, cars are the only means to access the southern section of the Gobi Desert, one of Mongolia's top tourist destinations.
Gers or Yurts
Before making a reservation, thoroughly review the accommodations offered as they will play a significant role in how enjoyable your visit of Mongolia will be.
Wild nights spent in gers. It's a basic comfort, but it enables you to fully immerse yourself in Mongolia's most breathtaking scenery. Sunsets over beautiful landscapes, evenings spent around campfires. The true luxury maybe this exclusivity!
You may stay at a place that allows you to experience a traditional Mongolian ger, one of Mongolia's most potent symbols. And we must confess that the atmosphere in gers is enchanting and lovely. Because you sleep on traditional beds and heat your ger with a traditional stove, this lodging is the most comfortable. Nights spent in ger camps with bathrooms (showers, wash basins, toilets), varying in quality based on the camps. Nights spent in guest-gers near nomadic families, who are happy to have you stay for one night or longer depending on the trip you choose. You spend time immersing yourself in the traditional way of life of a family of nomad herders and join in their daily activities.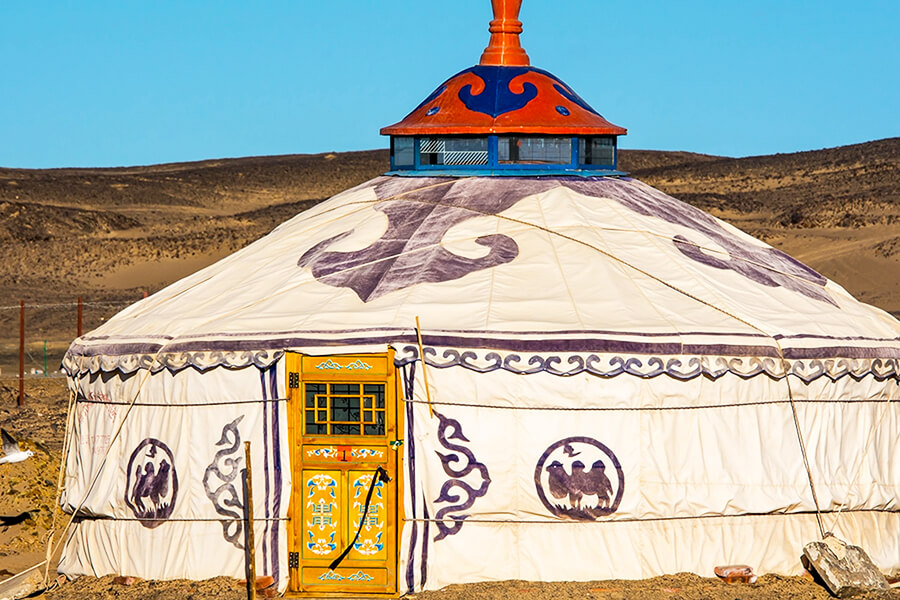 Naturally, your English-speaking tour guide is always available to act as your representative among your Mongolian friends and assist you in making the most of your trip. Your benefit from the coziness of a ger/yurt, which is more basic than those in the campgrounds but lacks equipped restrooms. Naturally, your English-speaking tour guide is always available to act as your representative among your Mongolian friends and assist you in making the most of your trip.
Which Regions of Mongolia Should You Visit?
The Orkhon Valley
The Orkhon Valley is "Mongolia as you dream it" with its huge plains scattered with white yurts and forested mountains hiding Buddhist temples. The Orkhon Valley Cultural Landscape was added to the World Heritage List by UNESCO as an example of how nomadic pastoral practices have changed over the course of more than two millennia.
By adding a stop at Khogno Khan, also known as the "Mini-Gobi," the Tsenkher warm springs, or the Ugii Nuur Lake to your tour, you may travel the shortest distance while yet seeing the most diverse aspects of Mongolia.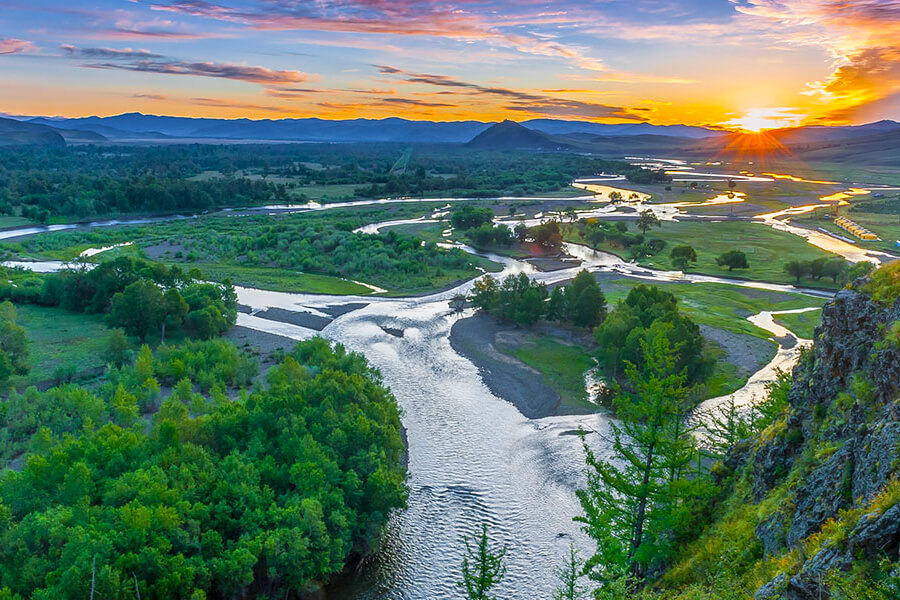 The greatest variety of activities, including stays with nomadic families, equestrian routes, walks, and discovery excursions with camping or ger camp accommodations, can be found in the Orkhon Valley. All of our exploration excursions spend at least three nights in the Orkhon Valley, which is the focus of several horseback riding and hiking programs.
Arkhangai
Arkhangai, a hidden jewel of Mongolia, is more authentic and well-preserved than the Orkhon Valley since it sees fewer visitors. It's worth the trip (you'll need two full days on the road to get to the tour's starting point), and you'll see expansive meadows, slender mountains, and striking canyons.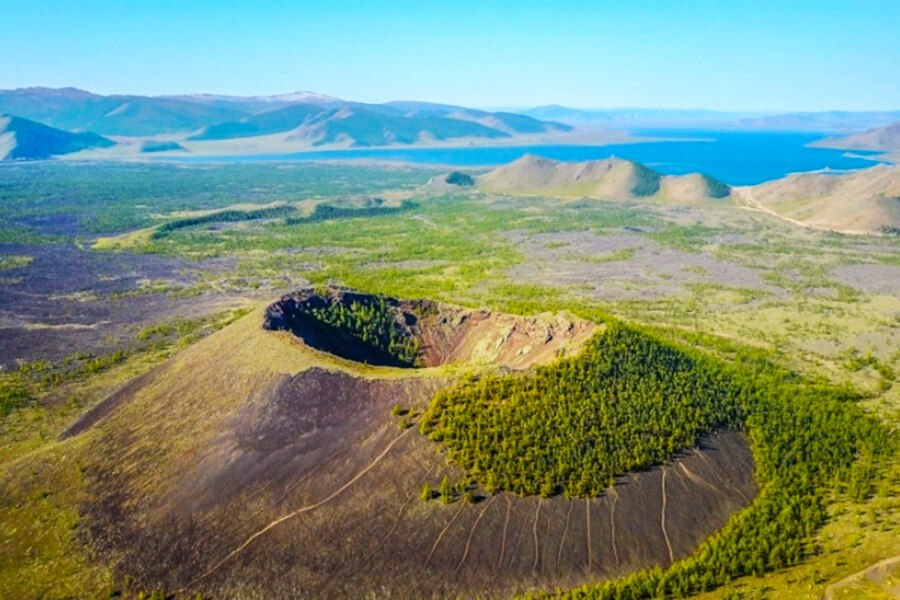 A visit to Terkhiin Tsagaan Nuur Lake and Khorgo Volcano is unquestionably merited given their breathtaking surroundings of ancient lava flows. You will go far into this region with our Transmongolia Horse ride.
Gobi Desert
The Gobi may refer to a fascination with the desert, its wind- and sand-sculpted cliffs, its enormous dunes where the last camels still roam, and its enigmatic gorges that appear to lead to another universe.
The most well-known attractions in the Gobi Desert (Bayanzag Flaming Cliffs, Khongor Els Dunes, and Yoliin Am Canyon) can only be reached on a discovery tour because there are no horses available and the terrain is too harsh for hiking.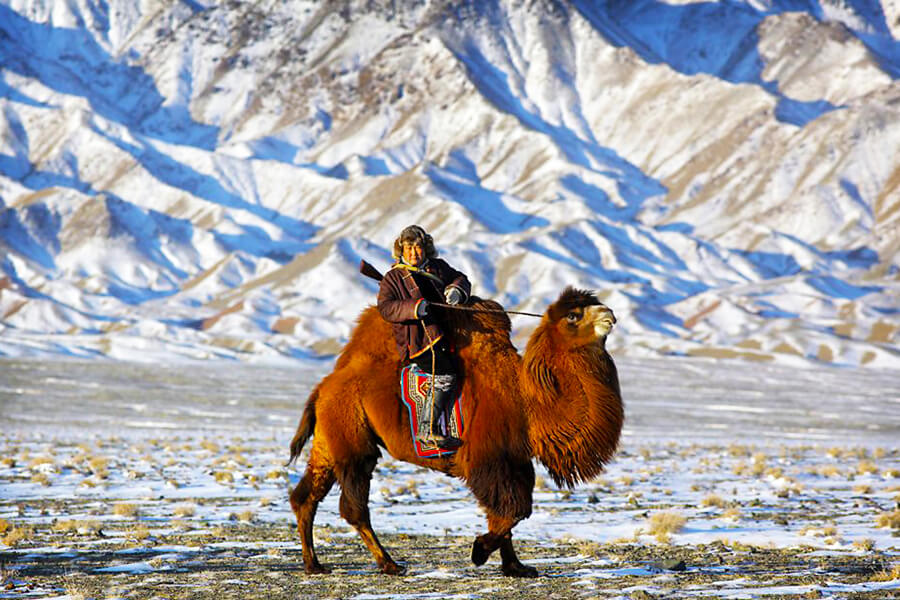 With our Gobi Desert & Orkhon Valley Tour, you may enjoy both the desert and steppe landscapes as we transport you from the Gobi Desert to the Orkhon Valley in around 1-2 weeks. However, a northern section of dune area between Ulaanbaatar and the Orkhon Valley makes it feasible to stroll or ride a horse through classic Gobi scenery. You may try our Khangai & Gobi Dunes Hiking Tour and our Gobi & Steppes Horse Riding Tour, as well as which area NOT to visit!
Lake Khövsgöl
We have decided to STOP our tours at Lake Khövsgöl because we don't want to be part of the touristic harassment of the reindeer breeders (Tsaatans or Dukhas).
Altai Mountains
We have decided to STOP our tours in the Altai Mountains because of the frequent outbreaks (foot and mouth disease, plague) and the lack of safe infrastructures.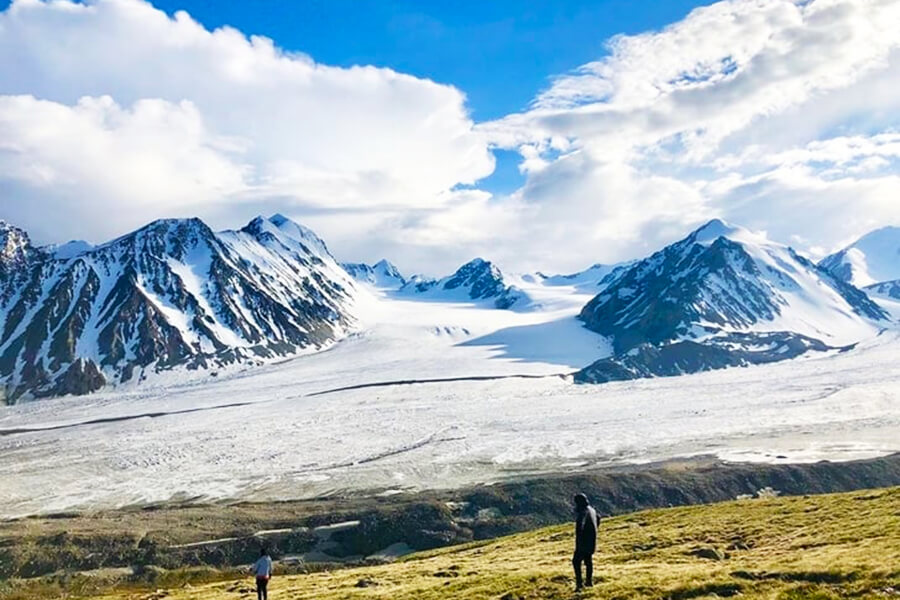 Best Season To Travel To Mongolia
The finest season lasts from the middle of May to the end of September due to Mongolia's harsh temperate climate. The days are long as well as the weather is fairly good at this time.
MAY: Dry and crisp conditions. Prepare for both 20° temps and the possibility of snow. There are hardly any visitors.
JUNE: Dry and somewhat warm conditions. Evening temperatures can still be chilly, approximately 5°C; there are hardly any visitors and many infants among the herds of nomadic families.
JULY: Warm weather (between 15 and 30 °C) in July. The night might still feel new. Even though the Naadam festival draws many visitors, Ulaanbaatar still feels like a vast, desolate place. There are flowers all everywhere.
AUGUST: Warm temperatures (between 15 and 30 °C) in August. The night might still feel new. fewer visitors than in July
SEPTEMBER: Temperatures can drop in mid-September. Be ready for snow as well as for 20° temperatures. Almost no tourists at all and incredible autumn colors in the larch forests at the end of the month.
Travel to Mongolia is still feasible for the remainder of the year, but you will need to be prepared for extremely cold temperatures (down to -25°C) and little to no snow. Due to the fact that most yurt camps are closed and it is not feasible to camp because of the weather, we only offer tours with nights spent in guest yurts.